President Trump's combative phone call with Australia's prime minister over a refugee agreement has set off a political storm in that country, one that threatens to weaken support for a seven-decade alliance with the United States just as many Australians say they want closer ties with China.
Enthusiasm for the alliance in Australia, one of America's closest partners, which hosts American spy facilities and rotations of American Marines, had already been under pressure from China, with which Australia conducts the most trade. Reports that Mr. Trump had scolded Prime Minister Malcolm Turnbull on Saturday, before abruptly ending the call, are likely to further undermine confidence in the United States, Australian analysts said.
"Trump is needlessly damaging the deep trust that binds one of America's closest alliances," said Professor Rory Medcalf, head of the National Security College at the Australian National University in Canberra. "China and those wishing to weaken the strongest alliance in the Pacific will see opportunity in this moment."
In less than two weeks in office, Mr. Trump's actions have strained alliances and alienated potential partners of the United States, and his phone call with Mr. Turnbull seemed to be one more example, this time with a country that has fought on America's side since World War I.
His administration's confrontational stance on Iran has undermined liberal voices in that country; his restrictions on immigration from somepredominantly Muslim countries have been widely criticized by allies; and his rejection of the Trans–Pacific Partnership trade deal threatens to push countries in the Asia-Pacific region, including Australia, closer to China.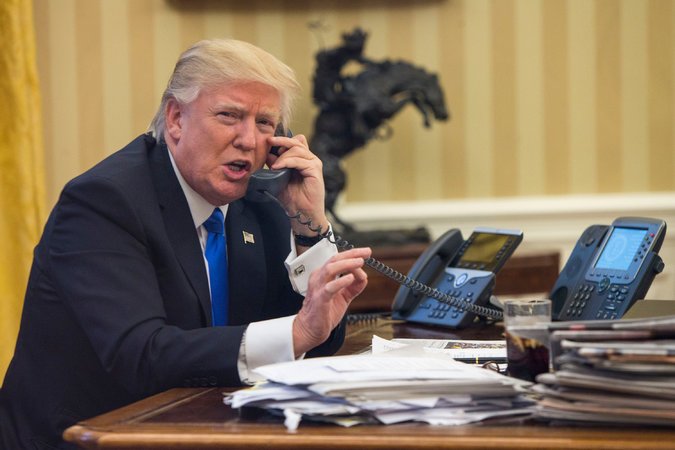 Like many countries in the region, Australia depends on the United States for its security but looks to China for its economic well-being, and it does not want to choose definitively between the two as they wage a global contest for power.
Experts said the American and Australian militaries were sufficiently intertwined — the Royal Australian Air Force has flown in Syria, and Australian soldiers have helped train the Iraqi Army — that the countries' security arrangements would endure. But the trust and confidence underlying the longstanding alliance will be harmed by Mr. Trump's apparent lack of respect, and his remarks will be very costly in the public domain, they said.
The phone call on Saturday became contentious after Mr. Turnbull pressed Mr. Trump to honor a deal in which the United States had agreed to take in up to 1,250 refugees being held by Australia at offshore detention centers.
Under the terms of the deal, hurriedly worked out by Mr. Turnbull and former President Barack Obama in New York last year, Australia would also accept Central American refugees staying in a Costa Rican detention facility.
Australia has been harshly criticized for its offshore detention policy, and the issue is politically delicate at home. Many of the refugees it holds, on the Pacific island-nation of Nauru and on the island of Manus in Papua New Guinea, are from Iran and Iraq. Both countries are among the seven whose citizens are barred from entering the United States for at least 90 days under the executive order Mr. Trump signed on Friday.
In his conversation with Mr. Turnbull the next day, Mr. Trump said the deal with Australia was going to hurt him politically, according to a senior official in the Trump administration.
The White House press secretary, Sean Spicer, told reporters in Washington on Thursday that Mr. Trump would allow the deal to proceed as long as the refugees were subjected to "extreme vetting." Mr. Spicer also said Mr. Trump remained "extremely upset" over the deal arranged by his predecessor.
Mr. Turnbull, whose popularity has been sagging over domestic issues, struggled on Thursday to cast the call in a positive light, fending off demands from the opposition Labor Party that he detail exactly what Mr. Trump had said.
Even after Mr. Trump made his remarks on Twitter, Mr. Turnbull insisted in a radio interview that he had "a clear commitment from the president" that the resettlement plans would proceed.
"The alliance is absolutely rock solid," Mr. Turnbull said. "It is so strong."
The United States Embassy in Canberra had tried to help Mr. Turnbull with his predicament earlier Thursday, saying the White House had confirmed that the agreement would be honored. But after Mr. Trump wrote about the refugee deal on Twitter, the embassy referred questions about the agreement to the White House.