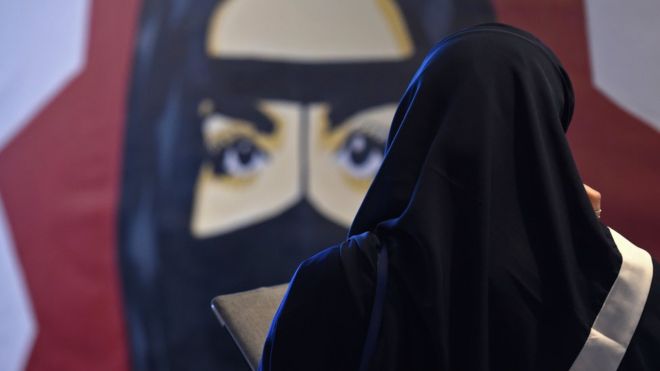 Operating out of a small room in an unknown country, a new internet radio station broadcasts a programme aimed at campaigning for greater women's rights in Saudi Arabia.
With melancholy music playing in the background, the presenter of Nsawya FM (Feminism FM) addresses the issue of domestic violence in the Gulf kingdom.
The presenter's voice shakes with emotion as she discusses the fate of Sara, a woman she says was killed by a male relative.
She was a 33-year-old university graduate with a job who lived with her parents – and who wanted to marry a man with a different nationality, that of Yemen.
"Sara's dream was ended with five bullets shot by her 22-year-old brother, even though she had been officially engaged with the consent of her parents," Ashtar, a 27 year old who uses a pseudonym inspired by the Mesopotamian goddess of love and war, later told BBC Arabic by phone.
The case was reported by the media and discussed by people who knew her, Ashtar said.
The presenter also told the story of Hanan Shahri, who is reported to have killed herself in 2013 after her brother and uncle allegedly beat her and refused to allow her to marry her fiancé.
Such cases, Ashtar said, were "only the tip of the iceberg".