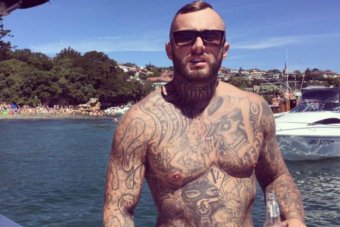 Rebels bikie Michael Davey was shot dead in a Sydney driveway two years ago — now two former gangmates, Siar Munshizada and Abuzar Sultani, have been charged with murder.
Davey, 30, was shot several times outside a Kingswood home in the early hours of March 30, 2016 and died at the scene.
The father-of-one's demise has been the subject of extensive New South Wales Police inquiries.
Both men charged over the murder are aged 29 and are already in correctional facilities — Goulburn and Silverwater.
Sultani, the Goulburn inmate, was charged on Tuesday and is expected to appear in Burwood Local Court on September 17.
Munshizada appeared at Burwood Local Court today.
At the time of Davey's death, a "heartbroken" friend described him as a loving father.
"He was a really good guy," Krystal Lenkova said.
"I know a lot of people may not think that because of what he was involved in, but he was a really genuine guy.
"It broke my heart because I was looking at the white sheet thinking, 'That poor bloke', but I didn't know it was someone that I was close to that was under there."
A year before his death, Davey was the target of a shooting at a shopping centre in Penrith.