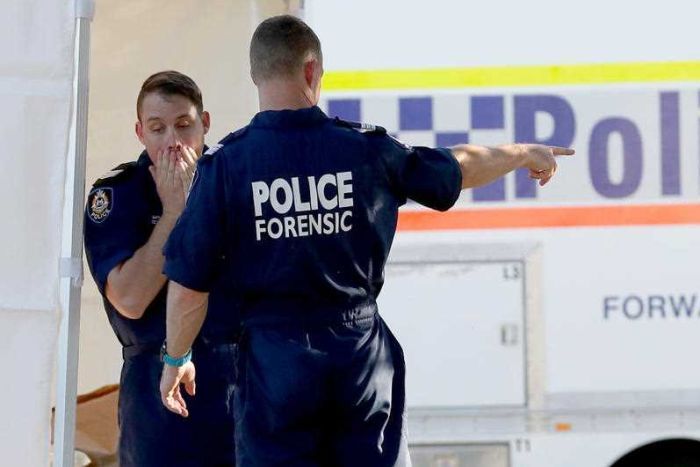 The five people found dead at a house in Perth's north-eastern suburbs were twin two-year-old girls, their three-and-a-half-year-old sister, their mother and grandmother, police have revealed.
The bodies of the girls and women were discovered at the home in Bedford yesterday after a man, believed to be aged in his 20s, went to a regional WA police station.
The man remains in custody but "no charges have been laid at this time", a police spokesman said on Monday morning.
The names of the victims have not yet been released.
The relationship of the victims to the man in custody is also yet to be confirmed by police.
Homicide Squad and forensic officers continued to work throughout the night at the house as part of their investigation to determine the circumstances around the killings.
Police yesterday said the investigation was still at a "very early stage", but described the incident as a tragic event.
"It is tragic not only for the family and the friends, it is also tragic for those first responders who are forced to attend such scenes," WA Police Assistant Commissioner Paul Steel said.
"It does send a ripple through the community of Western Australia."
The house, on the corner of Coode St and Fort St, is less than 500 metres away from two high schools — John Forrest Secondary College and Chisolm Catholic College — as well as Hillcrest Primary School.
Students were seen walking past the crime scene this morning on their way to school.
House had been unusually quiet: neighbour
Neighbours said yesterday a young family lived at the house, with an older woman visiting regularly.
Richard Fairbrother, who lives next door to the house where the bodies were found, said he last saw the family more than a week ago, as he had been away.
"We've just been on a holiday and come back yesterday [Saturday] to silence in the street," he said.
"We noticed that the house next door was pretty quiet, which was unusual, being that they had the young kids.
"We had some friends staying here who have also mentioned that they didn't see or hear anybody next door for the week that we were away."
Mr Fairbrother said he was friendly with the family and was struggling to understand how such a situation could happen.
"We'd been around to their house once or twice, and vice versa. It's just terrible to hear, terrible," he said.
"We weren't that close, [but] we could hear and see the kids playing in the backyard quite often."
Third WA mass killing in six months
It is the third time this year that WA Police have been confronted by what appears to be a mass murder crime scene.
In May, seven people were found dead after a mass shooting in a house in Osmington, near the tourist town of Margaret River in WA's South West.
Katrina Miles and her four children were found shot dead in their beds, and the body of her mother Cynda Miles was found in an adjoining property with gunshot wounds.
The children's grandfather, Peter Miles, was also found dead from a gunshot and three firearms belonging to him were found on the property.
It was the worst mass shooting in Australia since the Port Arthur massacre in 1996, when 35 people were shot dead in Tasmania.
Then in July, a mother and two children were found dead in a house in Ellenbrook, in Perth's north.
The woman's son, Teancum Vernon Petersen-Crofts, alerted authorities to the crime after entering a nearby convenience store, where staff called police.
When officers went to the house, they found Michelle Petersen and her son, Rua, dead, and her daughter Bella in a critical condition.
She later died on the way to hospital.
Mr Petersen-Crofts has been charged with three counts of murder and remanded to the secure wing of Graylands Hospital while he awaits his next court appearance.