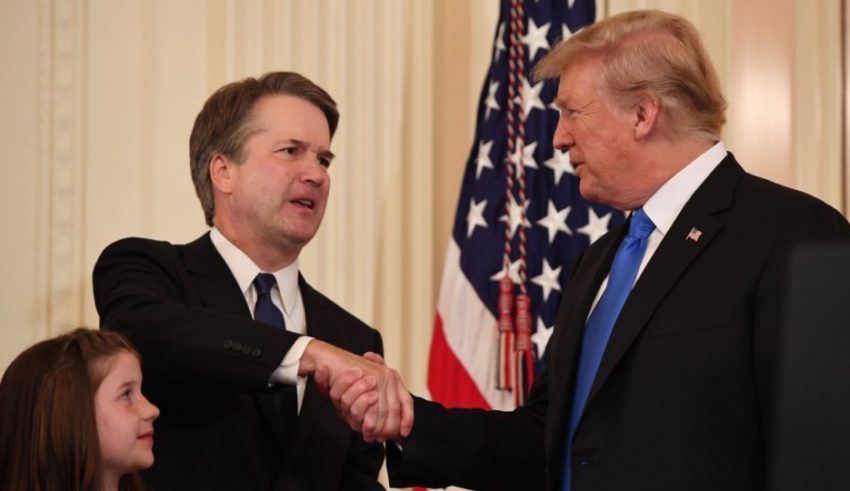 US President Donald Trump has rallied around his Supreme Court nominee Brett Kavanaugh following multiple allegations of sexual abuse against him.
Despite facing a barrage of accusations dating back to the early 1980s, when Mr Kavanaugh was a teenager, Mr Trump has labelled the embattled nominee "a fine man with an unblemished past".
The US President said – a day after a second allegation emerged against Mr Kavanaugh – the accusations were unsubstantiated and a mere political attempt to endanger his Supreme Court nomination.
Mr Trump told reporters at the United Nations on Monday that he would back Mr Kavanaugh "all the way", describing the allegations as "totally political" and made by those who had just come "out of the woodwork 36 years ago and 30 years".
He also questioned the political motivations of the lawyers representing one of the women, saying "you should look into the lawyers doing the representation".
In an effort to save his reputation, Mr Kavanaugh said the allegations were a "grotesque and obvious character assassination", and would not derail or defeat his pursuit of the nomination.
"The coordinated effort to destroy my good name will not drive me out. The vile threats of violence against my family will not drive me out. The last-minute character assassination will not succeed," Mr Kavanaugh wrote in a letter to the leaders of the Senate Judiciary Committee.
"There is now a frenzy to come up with something – anything – that will block this process and a vote on my confirmation from occurring," he added.
The new accusation in a report from The New Yorker came just a few hours after negotiators had reached an agreement to hold an extraordinary public hearing on Thursday for Mr Kavanaugh and psychology researcher Christine Blasey Ford.
Ms Ford, 51, accused Mr Kavanaugh of sexually assaulting her at a party when they were teenagers. She claims Mr Kavanaugh locked her in her bedroom and forcibly her held down while he tried to remove her clothes.
However he denied the alleged incident which Ms Ford described as an "attempted rape".
The second claim against Mr Kavanaugh dates to the 1983-84 academic year, which was his first at Yale University.
Deborah Ramirez, a Yale University classmate, alleged Mr Kavanaugh exposed himself at a drunken dormitory party.
In a statement provided by the White House, Mr Kavanaugh said the event "did not happen" and the allegation was "a smear, plain and simple".
Michael Avenatti, the lawyer representing porn actress Stormy Daniels in her legal fight with Mr Trump, claimed to represent another woman with information about high school-era parties attended by Mr Kavanaugh and urged the Senate to investigate.
Mr Avenatti said he will disclose his client's identity in the coming days and that she is prepared to give evidence before the committee, as well as provide names of corroborating witnesses.