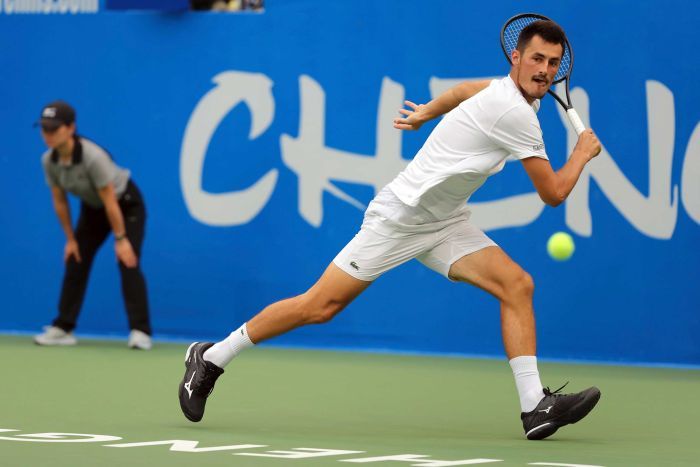 There were fist pumps, furious dropshot chases and four match points saved as the Australian claimed a stunning first ATP tournament victory in three years at China's Chengdu Open.
The oft-maligned 25-year-old dug deep to snatch a brave 6-1 3-6 7-6 (9-7) win over world number 13 Fabio Fognini.
He hadn't played someone ranked as high as Fognini in a year — let alone claimed a win against such a player but Tomic finished off a long week in fighting style.
Coming into the tournament as a qualifier ranked 123rd in the world, Tomic won seven consecutive matches to take out the title.
Clearly emotional after a year of bad press — much of it earned after allegations of tanking during matches and an ill-advised appearance on a reality television show — Tomic dropped to the court after the win before getting up to make the sign of the cross.
"I think all week I was lucky," he said.
"I was supposed to lose in the qualifying in the second round to (Egor) Gerasimov. I was down 3-0, 4-0 in the third set tiebreak.
"I was down on centre court here first round. I was down match points in the second round. So for me I saved, I don't know how many match points this week.
Tomic is projected to rise to around number 77 in the world and looks to have safely secured automatic entry to next year's Australian Open