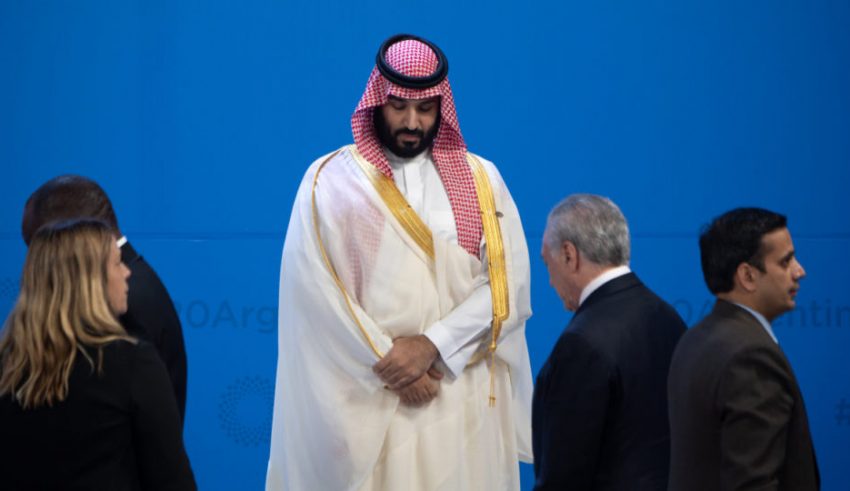 French President Emmanuel Macron has stepped up the pressure on Saudi Arabia over the killing of journalist Jamal Khashoggi, confronting Crown Prince Mohammed bin Salman at the G20 summit in Argentina.
Mr Macron reportedly told Prince Mohammed that international experts need to be involved in the investigation into the journalist's death.
Mr Macron's demand came shortly before Theresa May held face-to-face talks with the crown prince in which she promised to send a "robust" message about the murder, as well as the war in Yemen.
The crown prince was filmed in an apparently tense conversation with Mr Macron, telling the French president not to worry.
Mr Macron responded: "I am worried. You never listen to me."
The widely-shared video showed bin Salman saying: "I will listen, of course." It concluded with Mr Macron replying: "I am a man of my word."
Later, an Élysée Palace official said the president had conveyed a "very firm" message on the need for international involvement in the Khashoggi investigation, currently the subject of two separate probes by Saudi Arabia and Turkey.
Two months after the killing of the Washington Post columnist, Khashoggi, world leaders at the G20 summit in Argentina have been forced to confront how to approach the Saudi crown prince implicated in his murder.
Prince Mohammed appeared isolated among fellow world leaders at the summit, with the notable exception of an awkward and vigorous public handshake from Russia's Vladimir Putin – himself treated as a pariah by some of those present.
The crown prince patted Mr Putin's hand three times for emphasis as the two leaders took their seats next to each other.
Mr Putin and Prince Mohammed were due to hold bilateral talks on Saturday, according to Kremlin documents seen by Reuters.
Intelligence agencies including the CIA have blamed Prince Mohammed, 33, for the October 2 assassination of Khashoggi, an outspoken critic of his family's regime, although the prince has blamed the death on a rogue operation.
In a family photo of world leaders at the opening of the summit in Buenos Aires, Prince Mohammed was sidelined and kept a relatively low profile.
US President Donald Trump also appeared to give the prince a wide berth.