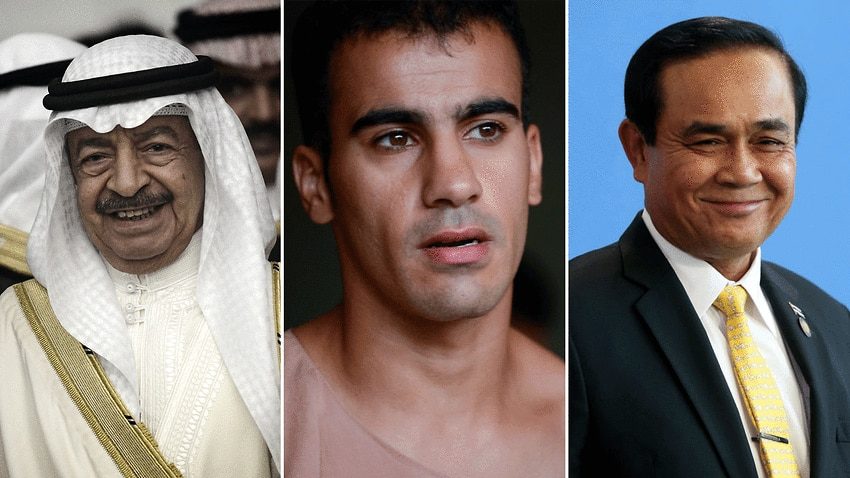 As Hakeem Al-Arabi's teammates at Pascoe Vale Football Club in Melbourne prepare to start a new season, their star defender is about to mark two-and-a-half months in a Bangkok jail.
The Bahraini refugee and Australian permanent resident was arrested in November last year, on an invalid Interpol red notice from the country he fled as he entered Thailand for his honeymoon.
And while Australia continues to fight to bring him home, concerns are being raised that the close bilateral relationship between Thailand and Bahrain might hinder the efforts.
"We are concerned Hakeem is paying the bill for this strong relationship between these two countries," Fatima Yazbek of the Australian-based Gulf Institute for Human Rights and Democracy told SBS News.
According to academics and human rights groups, the two countries have long held extremely close ties, both financially and between the two royal families.
"Even up to today, the two countries are actually really close," said Dr Aim Sinpeng, an expert in South-East Asian politics at the University of Sydney.
She pointed to a Thai scholar who specialises in Middle Eastern relations that "believes that Bahrain is probably the closest ally Thailand has in the Middle East."
The two countries are members of a joint-commission aimed at strengthening cooperation between their nations, which saw political leaders from each country meet at the Ministry of Foreign Affairs in Thailand, as recently as August 2018.
Facing international calls for Al-Araibi's release, the Thai government said in a statement on Wednesday that it "did not gain anything" from continuing to detain him.
"As a sovereign country that has legal obligations and commitments to the international community, Thailand finds itself in the middle of a case involving two countries [Bahrain and Australia] competing for Mr Hakeem's custody."
According to Dr Sinpeng, the issue has become a "hot potato" for Thai politicians, as the government prepares for an election in March this year.
"No one wants to talk about it because whatever happens Thailand loses," she said.
"They don't want to do anything from the political perspective that would give them negative spotlight. So this is probably one of the reasons they are saying it's up to the court."
Close relationships at the top
According to Dr Sinpeng, the Thai and Bahraini royal families have always had a close relationship, reporting that the Bahraini royal family visits Thailand every year.
Thai deputy prime minister and minister of foreign affairs Surapong Tovichakchaikul said the relationship between Thailand and Bahrain "was very close and strong" in an interview with Oxford Business Group in 2012.
In the same interview, he also disclosed Bahrain Prime Minister Khalifa bin Salman Al Khalifa was a "close personal friend" of former Thai prime minister Thaksin Shinawatra and had "donated roughly $2 million of his own money" to Thailand for flood relief.
But Mr bin Salman Al Khalifa's relationship with Thailand's leaders does not end with the former prime minister.
The Bahraini prime minister and the former King of Thailand Bhumibol Adulyadej appear to have had business dealings as joint shareholders of the luxury hotel group Kempinski Hotels.
From 2004, The Thailand Crown Property Bureau – the body responsible for managing the property assets of the crown – was the majority stakeholder in the international company until 2017 when it handed over its majority shares to an "existing Bahraini-shareholder", maintaining a minority holding.