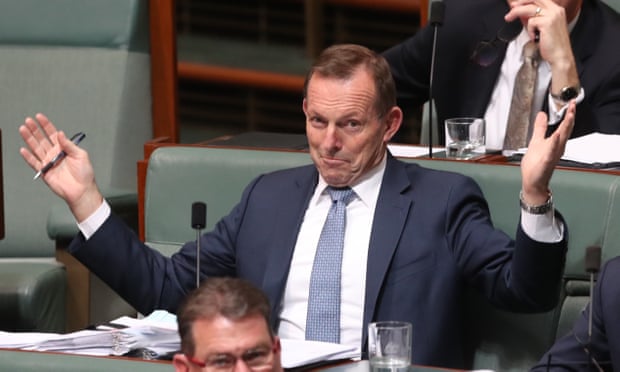 Malcolm Turnbull has slammed Tony Abbott's suggestion that Australia should reinvest in coal power, labelling the idea "ideology and innumerate idiocy".
Mr Turnbull's blunt intervention adds fuel to the heated debate on energy policy between the former prime ministers, which reignited on Friday when Mr Abbott said he had reversed his recent view that Australia should withdraw from the Paris climate agreement.
He said federal government had dropped its "emissions obsession" following following last August's ousting of Mr Turnbull.
"We've got a new prime minister and a new energy minister," Mr Abbott told a candidates' debate in his Sydney electorate of Warringah on Friday.
That prompted a reaction from his predecessor, who had already given a frank interview to the BBC on Thursday.
Mr Turnbull had more to say 10 minutes later:
"The reason the fossil fuel lobby and their apologists rail against Snowy Hydro 2.0, and have tried to stop it, is because it delivers the massive storage which does make renewables reliable and thus enable our progress to lower emissions and lower energy prices," he tweeted.
Mr Abbott said he had signed Australia up to the landmark 2015 international agreement only because he believed the target to cut emissions could be met "without substantial policy change and without significant additional costs on the economy".
The historic global climate agreement was agreed in December 2015 and outlined a framework for all countries to tackle climate change from 2020.
In a fiery debate on Friday morning between Mr Abbott and leading independent candidate for his seat of Warringah, Zali Steggall, he interjected several times was she was speaking.
"I think he needs to learn the error of his ways and improve his manners," Ms Steggall told reporters after the event in Sydney on Friday.
"There's no doubt that lies and muttering are a thing of the past and the electorate can see through it."
During the Tourism & Transport Forum's 2019 Leadership Summit in Sydney, he said he "thought a few months ago that the only way to break the emissions obsession was to pull out of Paris".
"I think that the government has lost its emissions obsession now that Angus Taylor is the energy minister. So I don't think it is now necessary … I'm not calling for us to pull out."
Mr Abbott went on to back the creation of new coal-fired plants, even saying that the Snowy Hydro 2.0 project, which is owned by the government, should consider investing in new coal projects.
"We do need more base-load power in the system," he said. "Why not coal-fired power? Coal fire remains the cheapest form of base-load power."
Mr Abbott was famously ousted as prime minister by Mr Turnbull in 2015.
In mid-2018, Mr Abbott called for Australia to follow US President Donald Trump's lead and get out of the Paris agreement.
Mr Turnbull was himself dumped as PM in a chaotic period last August. The last straw for agitators against his leadership – including Mr Abbott – was his national energy guarantee policy, which would have required electricity generators to cut emissions while meeting reliability standards.
In his BBC interview, Mr Turnbull claimed he was pushed out precisely because his colleagues feared he would win the next election.
"Normally what you do when you replace a leader, you replace the unpopular person whose fate is sealed with somebody who is much more popular and gives you a chance of winning. That was not what happened in August," he said.
"The party, on any of the objective indications, is in a worse position than it was in August. You can't deny that, that's a fact."
Current Prime Minister Scott Morrison has recently announced a $2 billion extension to Mr Abbott's emission reduction fund – rebadged as the climate solutions fund – and Commonwealth funding for Snowy 2.0.