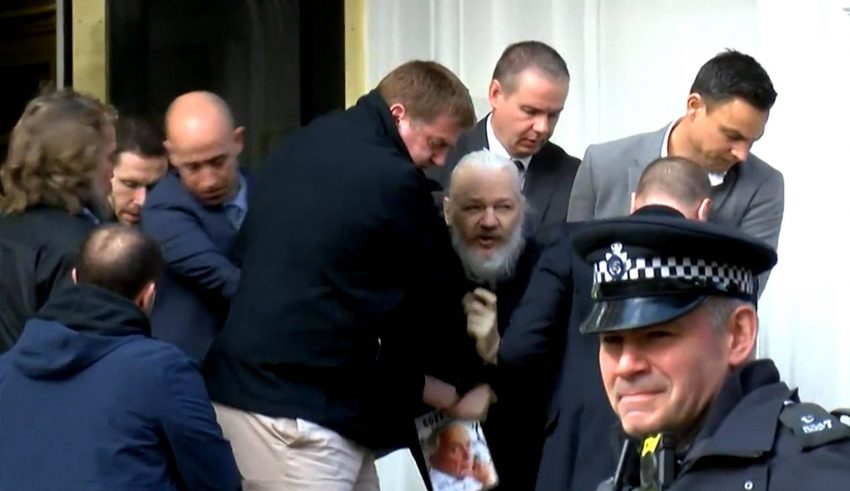 A judge in London has found WikiLeaks founder Julian Assange guilty of breaching his bail at Westminster Magistrates' Court.
Judge Michael Snow quickly issued his verdict on Thursday after Assange appeared in court, with his supporters packing the public gallery.
The basis of Assange's defence was that he couldn't expect a fair trial in British courts as the United Kingdom's purpose was to "secure his delivery" to the United States.
Assange said he was not guilty of failing to surrender to court in 2012, and his lawyer said Assange would not give evidence.
Minutes later the judge convicted him of skipping bail.
"His assertion that he has not had a fair hearing is laughable," Justice Snow said.
"And his behaviour is that of a narcissist who cannot get past his own self-interest."
Assange faced sexual assault allegations in Sweden when he sought asylum in the Ecuadorian Embassy in London 2012, fearing extradition to the US.
Assange remained in the embassy for a total of six years, but in recent months, relations between the Australian and his Ecuadorian hosts had turned sour.
His tenure ended in a dramatic arrest by British police at the invitation of Ecuador, and the country has subsequently revoked his Ecuadorian citizenship.
The sexual assault charges have since been dropped, but a charge of skipping bail remained in place.
Assange faces a sentence of up to 12 months, and has been remanded in custody to await sentencing at Southwark Crown Court.
Prime Minister Scott Morrison said Assange would not be given any special treatment but would be treated like any other Australian and receive consular support.
"When Australians travel overseas and they find themselves in difficulties with the law, well they face the judicial systems of those countries, it doesn't matter what particular crime it is they've allegedly committed," Mr Morrison said.
"That's the way the system works."