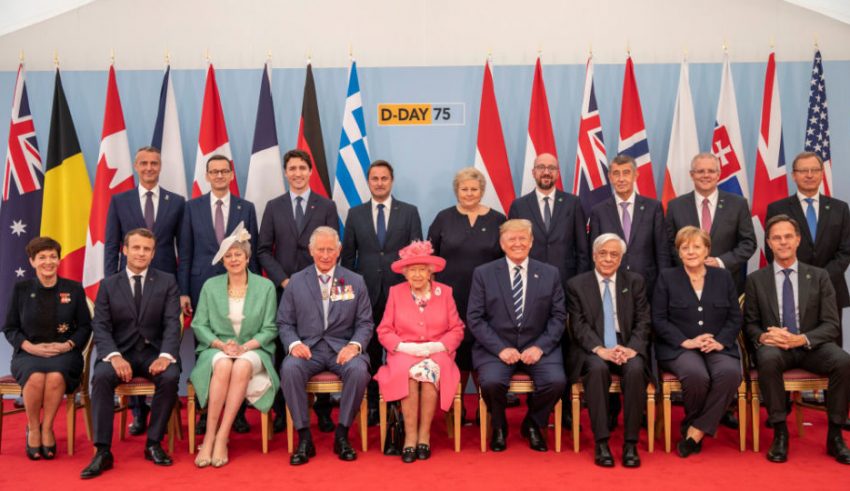 PORTSMOUTH, ENGLAND - JUNE 05: Queen Elizabeth II, accompanied by Prime Minister, Theresa May, Prince Charles, Prince of Wales, President of the United States, Donald Trump and First Lady of the United States, Melania Trump pose for a formal photograph with leaders of the other Allied Nations ahead of the National Commemorative Event commemorating the 75th anniversary of the D-Day invasion on June 5, 2019 in Portsmouth, England. Back row l-r Slovakia DPM Richard RaAi, Prime Minister of Poland Mateusz Morawiecki, Prime Minister of Canada Justin Trudeau, Prime Minister of Luxembourg Xavier Bettel, Prime Minister of Norway Erna Solberg, Prime Minister of Belgium Charles Michel, Prime Minister of the Czech Republic Andrej BabiA, Prime Minister of Australia Scott Morrison, Danish Ambassador to the UK Lars Thuesen. Front row L-R Governor-General of New Zealand Patsy Reddy, President of France Emmanuel Macron, Prime Minister of the United Kingdom Theresa May, Charles, Prince of Wales, Queen Elizabeth II, US President Donald Trump, President of Greece Prokopis Pavlopoulos, Chancellor of Germany Angela Merkel, Prime Minister of the Netherlands Mark Rutte on June 5, 2019 in Portsmouth, England. The political heads of 16 countries involved in World War II joined Her Majesty, The Queen on the UK south coast for a service to commemorate the 75th anniversary of D-Day. Overnight it was announced that all 16 had signed a historic proclamation of peace to ensure the horrors of the Second World War are never repeated. The text has been agreed by Australia, Belgium, Canada, Czech Republic, Denmark, France, Germany, Greece, Luxembourg, Netherlands, Norway, New Zealand, Poland, Slovakia, the United Kingdom and the United States of America. (Photo by Jack Hill - WPA Pool/Getty Images)

Queen Elizabeth has paid personal tribute to veterans of the D-day invasion which helped bring World War II to an end.
Rising from her seat not once, but twice, the 93-year-old Queen applauded not the 16 world leaders, the top military brass or dignitories but the frail ageing veterans, their coats heavy with medals.
About 300 World War II veterans, most of them more than 90 years old, attended the commemoration marking 75 years since history's largest combined land, air and sea operation.
World leaders from every country involved in the invasion of German-occupied France, including the USA and Australia, signed a joint statement pledging to "resolve international tensions peacefully".
It comes as Australian Prime Minister Scott Morrison, while visiting the UK, called on Mr Trump to resolve the US's tense trade and intellectual property disputes with China.
Mr Trump has imposed tariffs on China and threatened higher tariffs on Mexico in a bid to get his way on the China trade deal and force Mexico to stem the flow of illegal migrants.
Mr Morrison met with Mr Trump, exchanging "friendly remarks" a day after he warned that the US-China trade war was "threatening the prosperity of millions".
Mr Morrison said the US had "legitimate concerns" about intellectual property protections, but he urged the world's two largest economies to resolve their differences within the system rather than take unilateral actions, such as imposing tariffs on each other.
"They raise a lot of genuine issues, but equally we need to work within the rules-based system because that is what has been very important for Australia and other trading nations like Australia, and we want to see that continue, and there's a lot of support for that," Mr Morrison said.
Mr Morrison also met with outgoing UK Prime Minister Theresa May, urging Britain's Conservative Party to resolve Brexit after wishing her well in their final bilateral meeting.
D-Day, officially known as Operation Overlord, began when the Allies launched an aerial bombardment on German-occupied France on the night of June 5, 1944 to prepare the way for the seaborne invasion.
The following day Operation Neptune succeeded in landing 132,000 ground troops on the beaches.
About 3000 Australians, including 2500 airmen and 500 Navy sailors took part in the operation.
Fourteen Australians were killed including two Navy sailors and 12 airmen.
The Queen remembered how 15 years ago many people thought the 60th anniversary would be the last involving the veterans.
"The wartime generation – my generation – is resilient, and I am delighted to be with you in Portsmouth today," the 93-year-old queen said.
She recalled her father, King George VI, saying before the invasion that "what is demanded from us all is something more than courage and endurance; we need a revival of spirit, a new unconquerable resolve."
"That is exactly what those brave men brought to the battle, as the fate of the world depended on their success.
"Many of them would never return, and the heroism, courage and sacrifice of those who lost their lives will never be forgotten.
'It is with humility and pleasure, on behalf of the entire country – indeed the whole free world – that I say to you all, thank you."
The Queen, Mr Trump, Melania Trump and Prince Charles shook hands with half a dozen veterans who were waiting for them, exchanging a few words and asking them about their stories from D-Day.