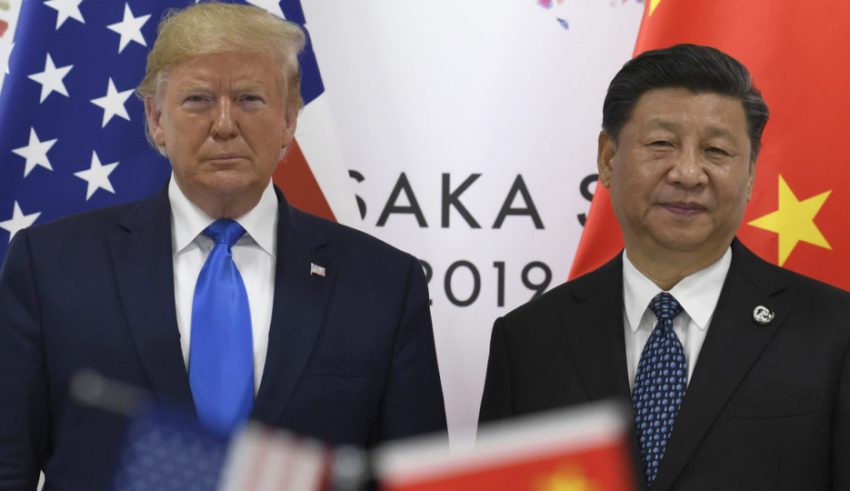 A much anticipated meeting between US President Donald Trump and China's Xi Jinping on the sidelines of the G20 Summit in Japan where discussions on trade dominated went "better than expected".
"We has a very very good meeting with China," Mr Trump told reporters after the meeting in Osaka on Saturday at 12pm (AEST).
"I would say probably even better than expected. The negotiations are continuing."
The meeting of the two global heavy weights was a key focus of the G20 meeting given the impact their trade conflict is having on the global economy.
Before the meeting of the two economic superpowers, the president and Chairman Xi told reporters they would both benefit from co-operation rather than friction.
Mr Trump complimented Chinese culture, reinforcing their strong relationship but to "even it up" with trade, adding it would be "historic" to do a fair trade deal.
"We want to do something that will even it up with respect to trade," he said.
"I think it's something that's actually very easy to do. I actually think that we were very close and then something happened where we slipped a little bit, and now we're getting a little bit closer. But it would be historic."
Mr Xi, for his part, recounted the era of "ping-pong diplomacy" which helped jump-start US-China relations two generations ago.
"One basic fact remains unchanged: China and the United States both benefit from cooperation and lose in confrontation," he said.
A trade war between the two economic superpowers had reached a critical juncture as both sides signalled a desire to de-escalate the year-long trade conflict.
The best-case scenario from Saturday's talks will be a compromise and a resumption in negotiations. Officials later indicated they expected the leaders to agree to reboot stalled trade negotiations.
The meeting is the centrepiece of four days of diplomacy for Mr Trump, whose re-election chances have been put at risk by the trade war that has both hurt American farmers and battered global markets.
Tensions had escalated in recent weeks after negotiations collapsed in May but Mr Trump struck a cautiously optimistic tone on the eve of his high-stakes meeting with President Xi.
"At a minimum, it'll be productive," Mr Trump said 24 hours before the talks.
"We'll see what happens tomorrow. It'll be a very exciting day I'm sure. It's going to come out hopefully well for both countries."
Reuters reported progress had been made earlier at a G20 dinner on Friday, where Mr Trump said the two leaders had seen each other and "a lot was accomplished".
"The relationship is very good with China. As to whether or not we can make a deal, time will tell. But the relationship itself is really great," he said before the talks.
Meanwhile, Mr Trump also sat down with Saudi Arabia's Mohammed Bin Salman in their first face-to-face meeting since the US intelligence community concluded that the crown prince directed the grisly murder of Washington Post columnist and American resident, Jamal Khashoggi last year.
He has consistently sought to minimise the crown prince's involvement in Mr Khashoggi's brutal killing.
His administration views the kingdom as the lynchpin of its Middle East strategy to counter Iran.
Saturday's meeting comes a week after Mr Trump came to the brink of ordering a military strike on that Iran in retaliation for it downing an American unmanned spy-plane. He is also relying on the Saudis to support his administration's elusive Israel-Palestinian peace plan, which is being developed by his son-in-law, Jared Kushner.
And a meting with Turkish President Recep Tayyip Erdogan was also scheduled, an ostensible NATO ally whom the US sees as drifting dangerously toward Russia's sphere of influence.
Let's shake hands and say 'hello'
Earlier, the president had tweeted that after the summit he'd be up for a meeting with the North Korean leader Kim Jong-un at the DMZ to say "hello" if he was around and shake his hand.
"After some very important meetings, including my meeting with President Xi of China, I will be leaving Japan for South Korea (with President Moon). While, there, if Chairman Kim of North Korea sees this, I would meet him at the Border/DMZ just to shake his hand and say Hello (?)!," he wrote.
Photo shoot sets agenda ahead of US China talks
If a Friday 'family photo' was any indication of ongoing tensions, hopes for a speedy end to the tit-for-tat tariffs hurting the world's economy were fast fading.
Mr Xi made a last-minute switch with Turkish president Recep Erdogan, avoiding his assigned spot in the line-up – next to Mr Trump.
And shortly after, when the leaders moved in to a formal session on the digital economy, Mr Trump took a thinly veiled potshot at Chinese technology giant Huawei, warning it was "essential to our shared safety and prosperity" to ensure the resilience and security of 5G networks.
Trump's December diary
Good news. There's a hole in the president's diary for December commitments, specifically during the dates of December 10 to 15, when Melbourne hosts the 2019 Presidents Cup golf tournament at Royal Melbourne.
An Australian reporter asked Mr Trump during the G20 Summit if he was up for a trip to Melbourne for the golf. Smiling, he replied: "I'd like to".
Mr Trump, an avid golfer who so far, since becoming president, has played 199 games and currently owns 17 golf courses from where he regularly conducts press conferences and diplomatic missions.
Sky News on Saturday, reporting from the G20 summit, heard Mr Trump has "got a hole in his diary" in December, suggesting the golf trip could be on, making it Mr Trump's first trip to Australia since becoming president.