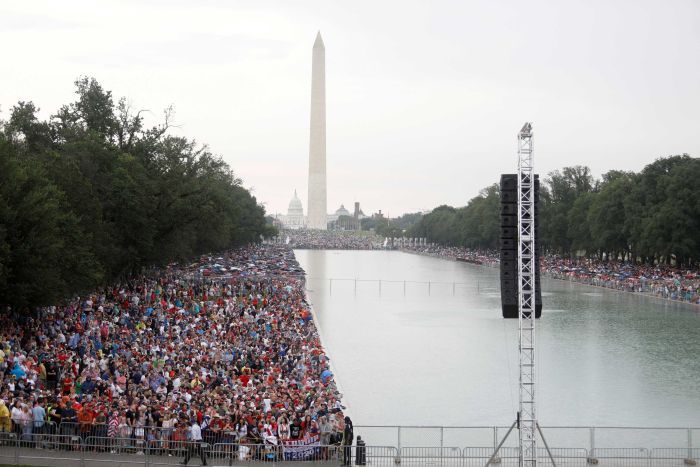 Donald Trump become the first president in nearly seven decades to address a Fourth of July parade in Washington DC, in an event criticised by opponents as a waste of taxpayer dollars and a needless glorification of the US President.
As rain fell on the US capital, Mr Trump declared that the "future of American freedom" lay with the men and women who are willing to defend it, as it did when America was founded.
Mr Trump said "there will be nothing that America cannot do" as long as Americans remembered the nation's history and "never stop fighting for a better future."
He paid tribute to each branch of the US armed forces, hailing their history before flyovers by aircraft from each service, including Coast Guard helicopters, Air Force F-22 fighters and Marine V-22 Osprey helicopters.
The event ended with a flyover by the Navy's Blue Angels aerobatics team.
But a parade of armoured vehicles, predicted by some ahead of the event, failed to materialise, although two Bradley armoured vehicles were on display among invited spectators in front of the Lincoln Memorial.
Protesters unimpressed by his Salute to America program inflated a roly-poly balloon depicting Mr Trump as an angry, nappy-wearing baby, in the shadow of the Washington Monument.
A late afternoon downpour drenched the crowds and drove some to leave, while rain also fell during Mr Trump's speech.
The National Park Service will not be providing estimates of the size of the crowd, according to Voice of America news.
Mr Trump set aside a historic piece of real estate — a stretch of the Mall from the Lincoln Memorial to the midpoint of the reflecting pool — for a mix of invited military members, Republican campaign donors and others.
The venue is where Martin Luther King Jr gave his "I have a dream" speech, and Barack Obama and Mr Trump held inaugural concerts.
Aides to Mr Trump fretted about the prospect of empty seats at his event, said a person familiar with the planning who was not authorised to be identified.
Aides scrambled in recent days to distribute tickets and mobilise Mr Trump's and GOP social media accounts to encourage people to attend the hastily arranged event.
The 'Trump Baby' balloon which was first used when Mr Trump visited the UK was inflated by anti-war organisation Codepink.
"We think that he is making this about himself and it's really a campaign rally," said Medea Benjamin, the organisation's co-director.
"We think that he's a big baby … he's erratic, he's prone to tantrums, he doesn't understand the consequences of his actions. And so this is a great symbol of how we feel about our President."
The balloon remained tied down at the Mall because park officials restricted the group's permission to move the balloon or fill it with helium.
A small crowd gathered to take pictures with the balloon, which drew supporters of Mr Trump as well as detractors.
Kevin Malton, a supporter of Mr Trump from Middlesboro, Kentucky, came with his son for the holiday and took pictures with the balloon.
He was glad to see the mix of political beliefs at the event, he said.
"Even though everybody has different opinions," he said, "everybody's getting along."
Not since 1951, when President Harry Truman spoke before a large gathering on the Washington Monument grounds to mark the 175th anniversary of the signing of the Declaration of Independence, has a US president made an Independence Day speech to a sizable crowd on the Mall.
In the lead up to the event, Mr Trump tweeted he would "speak on behalf of our great country!"