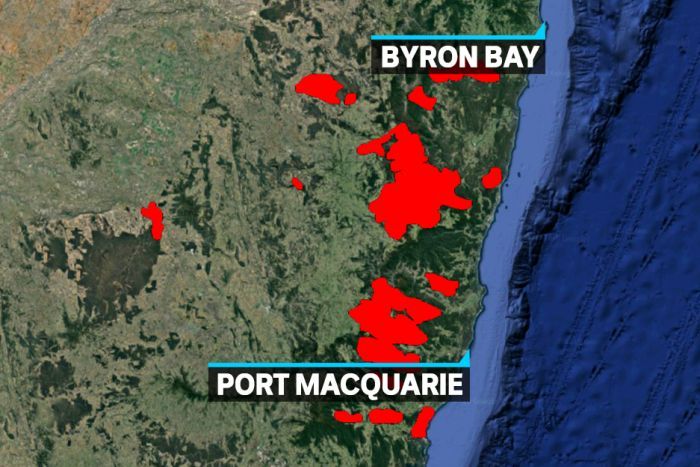 More than 850,000 hectares of land in New South Wales have been razed since the start of this year's unprecedented bushfire season — the equivalent to more than 1 million rugby league fields.
The NSW Rural Fire Service (RFS) confirmed the extent of the damage to date, ahead of a warning about "catastrophic" conditions facing Greater Sydney and the Greater Hunter areas on Tuesday.
It is the first time the Sydney region, including the Blue Mountains and Central Coast, has faced a catastrophic warning in the 10-year history of fire danger ratings.
Hot, windy conditions are forecast to stoke more devastation, with temperatures set to soar into the mid-30s.
Anthony Clark from the RFS has warned the coming conditions will be "as bad as it gets", as firefighters continue to battle the deadly epidemic of fires over recent days that killed three people and destroyed at least 150 homes.
About 60 fires continued to burn as of Sunday night.
"There's a lot of hard work ahead of us, but the simple message is we're not going to get on top of those fires before these really bad conditions hit on Tuesday," Mr Clark said.
People in bushfire-risk areas have been warned to start thinking now about a survival plan and head to larger towns and built-up areas.
A total fire ban is in place statewide for Monday and Tuesday and some schools have been closed.
Firefighters continued to work around the clock, with reinforcements from interstate and New Zealand, but Mr Clark said the message was that conditions on Tuesday will be "very, very dangerous, and if you need help, we may not be able to get it to you."
Early signs of carnage
At the end of August, the RFS brought forward by a month the start of the bushfire danger period for more than 70 local government areas, as a precaution against the looming warm, dry conditions.
Within a week, homes were lost as fires tore into communities across the state with northern NSW near Tenterfield among the worst-hit.
At the time, RFS Commissioner Shane Fitzsimmons said it was an indication of the severity of the coming bushfire season.
"It is a sobering reminder of what is ahead, with the outlook indicating the next three or four months is dominated by above-average temperatures, below-average rainfall and unfortunately there is no meaningful signal anywhere for drought-breaking, relieving rain," he said.
Last month, two people died as fires again tore through northern NSW, with 45 homes destroyed in the onslaught, before the latest statewide crisis hit last week with an unprecedented 17 fires at emergency level on Friday.