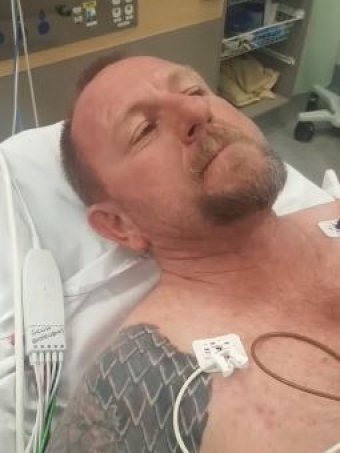 A well-known Queensland snake catcher has been released from hospital after being bitten by an eastern brown snake at a house south of Brisbane.
Tony Harrison was live-streaming on Facebook on Saturday when he was bitten by a brown snake which was hiding under an air conditioning unit outside the home in Pimpama.
The video shows the snake striking at Mr Harrison as the air-conditioning unit is lifted up.
A woman is then heard saying, "He didn't get you did he? Oh he did! Are you right?".
The snake catcher, who attends homes in the Gold Coast, Logan, Brisbane and Sunshine Coast regions, is known for his outgoing personality on jobs.
Mr Harrison's partner Brooke Smith confirmed he was receiving care in hospital. She said it was not the first occasion he had been bitten by a brown snake.
In a video from his hospital room, Mr Harrison said he was allergic to snake venom and had suffered anaphylactic shock after his last bite 20 years ago.
In an update to his followers, Mr Harrison said the encounter was his "worst nightmare being lived out".
"I often think of the repercussions and it frightens me a lot … then today I get a quick ninja tap," he said.
"See blood, and my worst nightmare was being lived out. Imagine the feeling of knowing you may die in a few hours.
"Well thanx [sic] to good universe powers or something it turns out I was not envenomated [it was] a dry bite."
Mr Harrison said he would be back at work this morning.