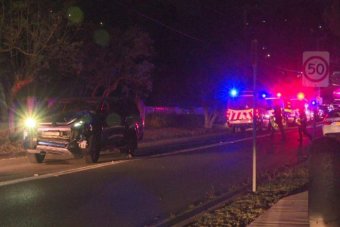 Four children have been killed and three others have been hospitalised following a pedestrian crash in Sydney's north-west.
Just before 8:00pm, emergency services were called to Bettington Road, Oatlands, near Parramatta, where police believe the children had been hit by a 4WD while riding their bikes.
Acting superintendent for Police NSW Danielle Emerton said the families of the children were front of mind.
"This is about the families … they have lost four children and three are in hospital and it must be devastating for them," she said.
Dozens of people were present at the scene of the catastrophe, including parents of the children.
Police say a 29-year-old man was driving the 4WD and had a 24-year-old male passenger with him.
The four children who died at the scene are yet to be formally identified, however police confirmed three of the children killed were girls and the other was a boy.
The three other children were treated at the scene by NSW Ambulance paramedics before being taken to The Children's Hospital at Westmead.
Eighteen paramedics were at the scene on the suburban road.
One boy was thought to be in a critical condition, but is now stable and two girls were treated for non-life-threatening injuries.
Acting superintendent NSW Ambulance Andrew McAlpine said the scenes were confronting.
"This is incredibly hard for all the emergency services, notwithstanding the loss the families have sustained," he said.
"It's very difficult for police, for paramedics, for fire and rescue to be confronted with such chaos and such carnage."
The driver of the 4WD returned a positive result to a roadside breath test.
He was arrested and taken to Castle Hill Police Station for a breath analysis and then to Westmead Hospital for blood and urine testing.
Police have begun an investigation into the crash, the scene of which will be examined by specialist police from the Metropolitan Crash Investigation Unit.