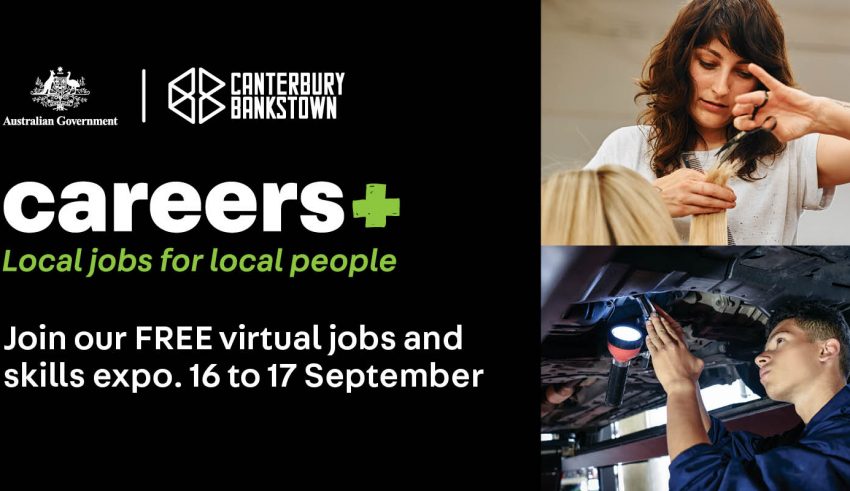 Jobs, jobs, jobs. That's the message to the local community as the City of Canterbury Bankstown prepares to launch its inaugural virtual Careers+ Expo.
The free event will be held online in partnership with the NSW Government Department of Education, Skills and Employment on Wednesday 16 and Thursday 17 September.
By registering for the jobs and skills expo, participants will be able to speak directly with industry leaders who offer career development resources and workshops, and help people be better prepared for the workforce.
"Careers+ is about pulling everything together, regardless of your level of experience, to become a one-stop-shop for job seekers and employers," Mayor Khal Asfour said.
"This is an opportune time for many in the community who have lost jobs or are looking to change their careers.
"We've got more than 20 local organisations and employers participating as exhibitors to ensure we're connecting local jobs to local people.
" One of those exhibitors is Planet Group of Companies, whose human resources manager, Cheryl Williams, said local employers who employ local workers see many benefits.
These include seeing workers become strong advocates for their employer, have better worklife balance and perform jobs better because they're invested in their community.
Ms Williams said the Careers+ Expo presented all job seekers, and those transitioning from school to the workforce, with great opportunities.
"Our objective is to offer community members an overall understanding of our industry… and help with tips and tools to prepare them for the recruitment process," Ms Williams said.
"We're excited for the opportunity to meet community members and understand their vocational goals. As a virtual event we'll reach those who may not have attended a physical event."
Mayor Asfour encouraged people to register and participate in the first virtual jobs skills expo.
"We're making it easily accessible for everyone, and if you don't have internet access, simply book a computer at one of our libraries to make sure you don't miss out," he said.
Council is working with a number of local businesses for Careers+ to better achieve positive economic outcomes for the wider local community.
To find out more and register today, visit
cb.city/careersplus