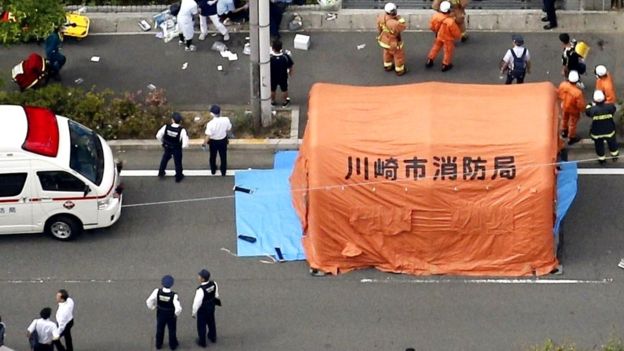 A man has gone on a stabbing rampage at a bus stop near Tokyo, leaving two people dead and more than a dozen injured.
A sixth grade schoolgirl and man in his 30s were killed, the Japan Timesreports, while another 15 victims were also school children.
National broadcaster NHK said the suspect detained at the scene died later after turning the knife on himself and stabbing his own neck.
The suspect was estimated to be in his 40s or 50s and began slashing at people as they waited at the bus stop and then on the bus.
"I heard screaming, then I saw a man standing with a knife in each hand," NHK quoted an unidentified witness as saying. "Then he crumbled to the ground."
Two knives were found at the scene.
The Kawasaki City fire department put the number of injured at 19, including three with severe wounds.
Citing police, national broadcaster NHK said a bus driver told officials that a man holding a knife in each hand walked toward the bus and started slashing children.
NHK interviewed a witness who said he saw the suspect trying to force his way onto a bus.
Images show emergency workers tending to victims inside an orange tent set up on the street, and police and other officials carrying the wounded to ambulances.
"I heard fire engines coming in the morning and I saw a man lying on the ground bleeding," a man who lives nearby told public broadcaster NHK.
"I saw many elementary school children lying on the ground near a school bus stop. School rucksacks were scattered all over the place.
"There was another man lying on the ground bleeding at a municipal-run bus stop near the school's bus stop," the man added.
Violent crime is rare in Japan but there have periodically been high-profile incidents that have shocked the nation.
A stabbing spree on a school bus and a commuter bus in a Tokyo suburb in 2010 injured more than a dozen people.
Two years earlier, a 28-year-old man drove a truck into a crowded pedestrian crossing in Tokyo, killing three people, and then fatally stabbed four more.