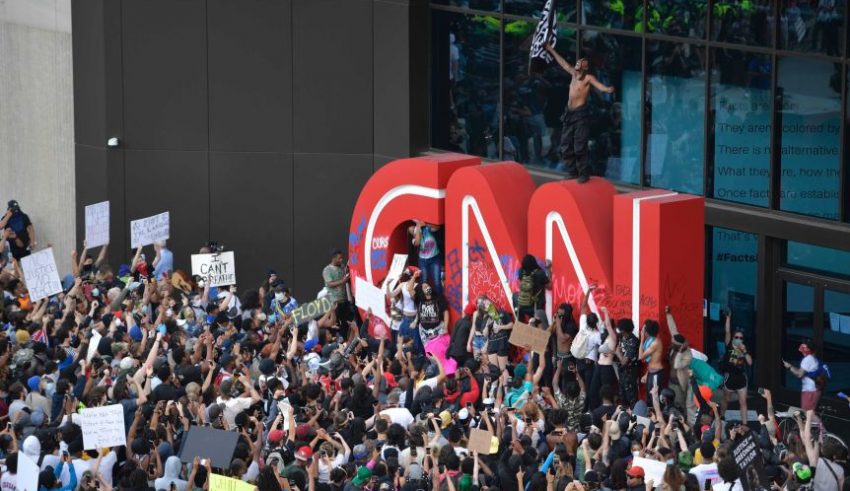 Protesters have marched, stopped traffic and in some cases lashed out violently at law enforcement, while Louisville police have apologised for firing pepper bullets at a news crew as protests erupted in dozens of US cities following the death of unarmed African-American man George Floyd in Minnesota.
Footage of Mr Floyd's death on Monday (local time) went viral.
It showed the handcuffed black man saying he could not breathe as white police officer Derek Chauvin knelt on his neck until Mr Floyd slowly stopped moving.
Three nights of violent protest followed in Minneapolis, with a fourth in motion.
The unrest has since spread to Phoenix, Denver, Las Vegas, Los Angeles and beyond, with thousands of protesters today carrying signs saying: "He said I can't breathe. Justice for George."
They chanted, "No justice, no peace" and "Say his name. George Floyd".
Fires burned unchecked and thousands protesting the police killing of George Floyd ignored a curfew as unrest overwhelmed authorities for another night in Minneapolis, and the Governor acknowledged he didn't have enough manpower to contain the chaos.
The new round of protests and riots came despite Minnesota Governor Tim Walz vowing on Friday to show a more forceful response than city leaders had the day before.
But by early Saturday morning, Mr Walz said he didn't have enough troops, even with some 500 National Guardsmen.
Mr Walz said he was moving quickly to mobilize more than 1,000 more Guard members, for a total of 1,700, and was considering the potential offer of federal military police.
He also warned that even that might not be enough, saying he expected another difficult night Saturday.
The Pentagon on Saturday ordered the Army to put military police units on alert to head to the city on short notice at President Donald Trump's request.
Minneapolis police said shots had been fired at law enforcement officers during the protests but no one was injured.
As the night dragged on, fires erupted across the city's south side, including at a Japanese restaurant, a Wells Fargo bank and an Office Depot.
Many burned for hours, with firefighters again delayed in reaching them because areas weren't secure.
Shortly before midnight, scores of officers on foot and in vehicles moved in, a day after city and state leaders faced blowback for their handling of the crisis.
On Thursday, protesters had torched a police station soon after it was abandoned by police and went on to burn or vandalize dozens of businesses.
Atlanta
After hours of peaceful protest in downtown Atlanta, some protesters have turned violent, smashing police cars, setting one on fire, spray-painting the logo sign at CNN headquarters and breaking into a restaurant.
Some members of the crowd pelted officers with bottles, chanting "Quit your jobs", as others watched the scene from rooftops.
Protesters ignored police demands to disperse.
Some moved to the city's major interstate thoroughfare to try to block traffic.
Georgia's Governor declared a state of emergency early on Saturday to activate the state National Guard as violence flared in Atlanta.
Brian Kemp tweeted that up to 500 members of the Guard would deploy immediately "to protect people & property in Atlanta".
He said he had acted at the request of Atlanta Mayor Keisha Lance Bottoms, who earlier appealed in vain for calm.
The city's Mayor, who is African-American, had passionately addressed protesters at a news conference: "This is not a protest. This is not in the spirit of Martin Luther King Jr.
"You are disgracing our city. You are disgracing the life of George Floyd and every other person who has been killed in this country.
"We are better than this. We are better than this as a city. We are better than this as a country. Go home, go home."
Ms Bottoms was flanked by rappers T.I. and Killer Mike, as well as the King's daughter, Bernice King.
Killer Mike, who referred to the death as an "assassination", cried as he spoke.
"We have to be better than this moment. We have to be better than burning down our own homes. Because if we lose Atlanta, what have we got?" he said.
He said children are burning things because "they don't know what else to do", but called for civil action.
"Now is the time to plot, plan, strategise, organise and mobilise. It is time to beat up prosecutors you don't like at the voting booth."
After Mayor Bottoms appealed for calm, the violence continued.
More cars were set on fire, a Starbucks was smashed up, the windows of the College Football Hall of Fame were broken and the Omni Hotel was vandalised.
New York
In Brooklyn, crowds of demonstrators have chanted at police officers lined up outside the Barclays Center.
There were several moments of struggle, as some in the crowd pushed against metal barricades and police pushed back.
Scores of water bottles flew from the crowd toward the officers, and in return police sprayed an eye-irritating chemical at the group twice.
The names of black people killed by police, including Mr Floyd and Eric Garner, who died on Staten Island in 2014, were on signs carried by those in the crowd, and in their chants.
"It's my duty to be out here," said Brianna Petrisko, among those at Foley Square in lower Manhattan, where most were wearing masks amid the coronavirus pandemic.
"Our country has a sickness. We have to be out here. This is the only way we're going to be heard."
At his Friday briefing, New York Governor Andrew Cuomo said he stood with the Minnesota protesters.
"Nobody is sanctioning the arson, and the thuggery and the burglaries, but the protesters and the anger and the fear and the frustration? Yes. Yes. And the demand is for justice," Mr Cuomo said.
At a news conference, New York City Mayor Bill de Blasio said New York Police Department officers had been told to respect peaceful protest.
He also had a message for protesters: "If you are angry with the Government, if you are angry with the elected leaders, direct that anger to all of us, because if we haven't done enough, we are the ones who should be held responsible.
"But the police officer in front of you is a working man or woman just trying to do their job," he said.