South Korea 'to seek arrest' of ex-leader Park Geun-hye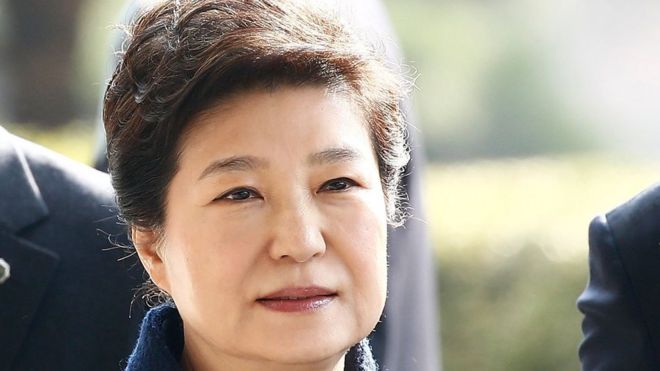 South Korean prosecutors have said they will seek an arrest warrant for former president Park Geun-hye, for her role in a corruption scandal.
Earlier this month, she lost her presidential immunity and was dismissed from her post when the constitutional court upheld a decision by parliament to impeach her.
Ms Park is accused of allowing her close friend Choi Soon-sil to allegedly extort money from big firms.
Mr Park has denied the allegations.
The former president apologised to the public last week, before being questioning by authorities for 14 hours.
Prosecutors said on Monday that they had "concluded that it is in line with the laws and principles to seek an arrest warrant".
The prosecutors argue that evidence like computer hard drives might be destroyed if Ms Park is not arrested, The BBC's Stephen Evans in Seoul says.
Ms Choi has been charged with bribery and corruption and is already on trial.
Why did Park lose her job?
At the heart of the drama lies the close friendship between Ms Park and Ms Choi.
Ms Choi is accused of using her presidential connections to pressure companies to give millions of dollars in donations to non-profit foundations she controlled.