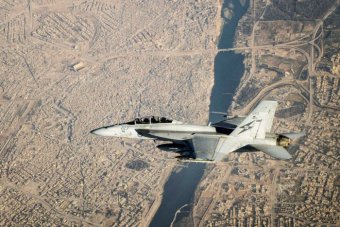 Australian Defence officials have revealed two RAAF fighter jets were involved in a bombing mission in Iraq that led to the deaths of Iraqi civilians, with an Iraqi man whose family members were killed putting the civilian death toll at 35.
The US-led Coalition estimated between six and 18 civilians may have been killed in the attack but that was based on estimates of population density, not any on-the-ground research.
The incident occurred in June 2017, at the height of the bloody battle by Iraqi and Coalition forces to retake the northern city of Mosul.
Iraqi security forces came across seven Islamic State fighters, and rushed to call in a Coalition air strike.
Two F/A-18F Super Hornets were among the jets deployed to the area, both dropping GPS-guided bombs on the target.
But Australian officials have now confirmed there were innocent civilians in the proximity of the blast.
"The Coalition assesses that between six and 18 civilians may have been killed, and that's based on an assessment of population densities," Air Marshal Mel Hupfeld, Chief Joint Operations revealed.
"It's not possible to determine if the civilian casualties occurred as a result of the Australian airstrike, the nearby Coalition airstrike, or other actors."
The airstrike hit the family home of Sheikh Mohammed Ghanim el Saffar.
His brother, who is also an imam, Sheikh Ayman el Saffar, said the building was home to the extended family of Sheikh Mohammed.
"My brother has lost all of his family. The number of the family members who died are 35," he said.
Speaking to the ABC from his home in Mosul, Sheikh Ayman said his brother's property was also used as a religious community centre.
"The house was hit, they lost money and a religious community centre. He had this religious community centre at that time he used it as his private house," he said.
"There were no activities at the community centre at the time."
Air Marshal Hupfeld said Australian forces would never take part in such strikes unless satisfied there was minimal risk, based on the advice from the Iraqi forces.
"We do know from our review of events that our air crew made no error in this mission," Air Marshal Hupfeld said.
The first reports of significant casualties were published by the website AirWars, which monitors harm to civilians as a result of airstrikes in the Middle East and North Africa.
The website initially suggested up to 50 people could have been killed.
Some local reports suggested the innocent victims could have been families.