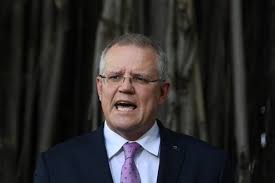 The promotion of a seventh woman to Cabinet has failed to quell debate about quotas to boost the number of women in the Liberal Party.
Prime Minister Scott Morrison says he's committed to boosting female representation in the Liberal Party, as government frontbenchers try to play down debate about introducing quotas.
Liberal powerbroker Alex Hawke reignited the debate on Sunday, calling for consideration of "intelligent" quotas to address the low numbers of Liberal women in Parliament.
Asked if he supported quotas, Mr Morrison said the federal cabinet now boasted the highest number of women in history and 19 women had been preselected to represent the party at the next election.
"I have no problem filling seven slots for women in my cabinet and potentially more because I've got so many great women to choose from," Mr Morrison told reporters in Sydney on Monday.
Just 19 of the Liberal Party's 82 federal MPs are female.
Flanked by Environment Minister Melissa Price and Foreign Minister Marise Payne, Mr Morrison said more women could be promoted if the Coalition wins the looming election.
"My team understand my commitment to this issue, but at the end of the day it's all about results and I'm known for getting results."
The newest member of Cabinet Linda Reynolds said on Saturday that her promotion was proof that "if you are good enough, you could get in (to Cabinet)".
Senator Reynolds, who is responsible for the defence industry portfolio, was tight lipped about the subject on Monday.
"I'm not commenting any further today because the men and women in uniform deserve a lot better than me talking about myself and other colleagues," Senator Reynolds told reporters.
Mr Morrison said Senator Reynolds appointment to Cabinet had been warmly received.
"She's there because she's the right person for the job."
Asked on Monday if he supported quotas, Trade Minister Simon Birmingham said preselection should be left to Liberal members.
"If you join the Liberal Party you get a say in who your local candidate will be and that's a really important part in the way we select our candidates."