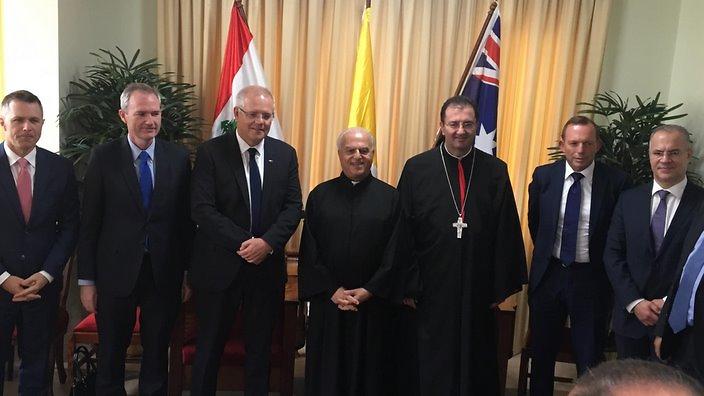 Scott Morrison has crossed paths with Tony Abbott away from the official election campaign trail at a Good Friday church service, telling the former prime minister he'd be on the hustings in Warringah "soon".
The Prime Minister, who was with his wife Jenny Morrison, read a traditional Good Friday reading from the Book of Isaiah at the St Charbel's liturgy as Mr Abbott, Immigration Minister David Coleman, Labor frontbenchers Tony Burke and Jason Clare and an estimated 5000 parishioners watched on.
St Charbel's is in Mr Burke's multicultural electorate of Watson but the major parties have agreed to a campaign truce and to run no political advertising on Good Friday, Easter Sunday and Anzac Day.
After a breaking the fast ceremony with His Excellency Bishop Antoine Tarabay, Father Superior Louis Ferkh and  monks, which media was not able to attend, Mr Morrison posed for photos with members of the St Charbel's Youth Association who told him: "Jesus loves you".
Mr Morrison also shared a more in-depth Easter message.
"The message I think is what we just heard at the Good Friday service here at this beautiful parish. It's a message of humility, it's a message of love for each other, of selflessness," he said.
"It's a message of putting others before yourself and that's what this community does and that's why it's as strong as it is. I just hope everyone over Easter has a beautiful family time and remembers, as we say at my church, the reason for the season."
It's Good Friday, and for Maronites — members of the Lebanese branch of the Catholic Church — it's one of the holiest, and most sorrowful, days of the year. Maronite Catholicism comes from the mountains of Lebanon, and dates backto the fourth century.