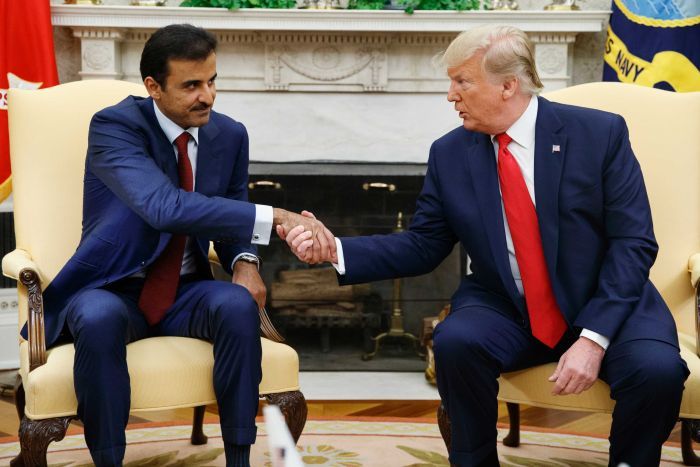 Qatar has agreed to buy "tremendous amounts of military equipment" and Boeing planes from the United States following a visit by Gulf Nation's Emir to the White House, according to President Donald Trump.
The weapons and commercial deals are tipped to cost tens of billions of dollars, as Mr Trump touted agreements with Qatar — a nation that is regarded as a pariah state among its Arab neighbours.
"They are investing very heavily in our country," Mr Trump said.
"They're buying tremendous amounts of military equipment, including planes.
"And they're buying commercial planes, as you know — very large numbers of commercial planes from Boeing. And we very much appreciate it."
The deals come at a time when US company Boeing is embroiled in an ongoing crisis — it is poised to be overtaken by rival Airbus as the world's biggest plane maker after two of its planes nosedived in Indonesia and Ethiopia, killing 346 people and causing Boeing stocks to plummet.
At a state dinner Mr Trump warmly welcomed Qatari Emir Sheikh Tamim bin Hamad Al Thani, saying they had been "friends for a long time".
They were joined by several influential figures, including Goldman Sachs executive Dina Powell, International Monetary Fund managing director Christine Lagarde and Robert Kraft, the billionaire owner of the New England Patriots football team who earlier this year pleaded not guilty to prostitution charges.
But the meeting and trade deals come amid a bitter rift between the tiny, energy-rich nation and its fellow American allies in the Persian Gulf, who claim Qatar supports terrorist groups in the region.
Mr Trump is facing critical decisions in the Middle East, and the latest development comes as tensions heighten between the US and Iran.
Meanwhile, there is an ongoing blockade imposed on Qatar by its Arab neighbours.