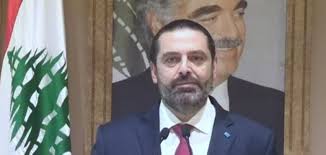 Lebanon's Prime Minister Saad Hariri has said he is resigning, amid protests that have gripped the country for two weeks.
Mr Hariri said Lebanon had reached a deadlock and needed a shock to break the crisis.
The protests began against now-scrapped plans to tax WhatsApp calls, but quickly widened to target political corruption and the economic turmoil.
Lebanon has one of the highest debt levels in the world.
In a televised address, Mr Hariri said he would tender his resignation and that of the government to President Michel Aoun.
Mr Hariri said: "For 13 days, the Lebanese people have waited for a decision for a political solution that stops the deterioration. And I have tried, during this period, to find a way out, through which to listen to the voice of the people."
But he added: "It has become necessary for us to make a great shock to fix the crisis."
The demonstrations have reflected the schisms within Lebanese society and have led to a 10-day closure of banks, with many other offices, schools and universities also shut.