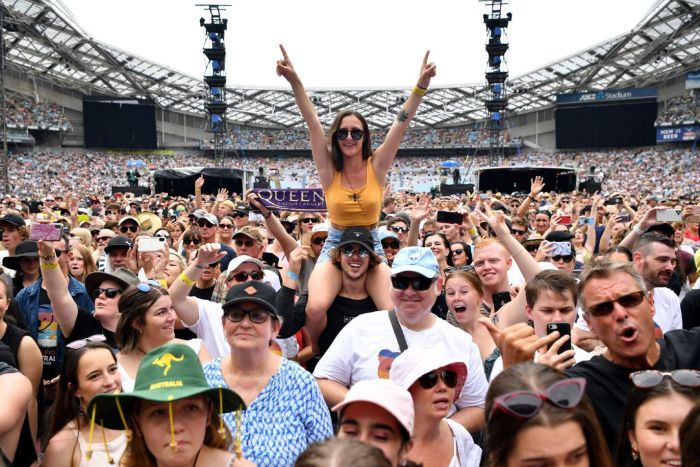 Rock behemoths Queen have re-enacted the band's legendary 1985 Live Aid set for a roaring crowd, in a star-studded concert raising millions of dollars for people impacted by bushfires.
A crowd of more 75,000 wrapped their arms around each other and joined in the chorus of We are the Champions in a massive show of support for the victims and first responders in the summer's fire crisis.
The crowd had earlier raised their voices for We are Australian, performed by Delta Goodrem who waved an Aussie flag.
Fellow Australian Russell Crowe led a one minute's silence during the emotion-charged show at Sydney's Olympic Park, and used the opportunity to urge the community to put "people before politics".
It comes a month after Crowe used a Golden Globes acceptance speech – read in his absence as he headed home to protect his NSW home during the fires – to call for acceptance of climate change.
The silent tribute for the 33 people who have lost their lives in the fires was followed up by a gripping performance by Canadian singer-songwriter k.d lang who performed Hallelujah.
Hosted by comedian Celeste Barber, who has raised more than $50 million for bushfire relief, all ticket profits will go to groups which are helping fire-ravaged communities get back on their feet.
Donations had topped $9 million as of 11pm on Sunday.
Barber became emotional when she thanked the volunteer firefighters who sacrificed their time to battle devastating blazes, saying "you will never know how grateful we are".
"Our volunteers across this entire country, they are the ones who saved us," Barber told the crowd.
"They are the ones who cancel holidays to stay here and look after us, and I will speak now very confidently on behalf of a nation when I say to those volunteers: Thank you."
Barber also fired a shot at government handling of the bushfire crisis.
"As Aussies, we band together because we have to look after each other – because it turns out people at the top don't," she said to cheers from the crowd.
As well as Queen – with frontman Adam Lambert – other big name international acts included Alice Cooper and Irish favourite Ronan Keating.
There was a tribute to original Queen frontman Freddie Mercury, who was featured in old audio from the Live Aid concert.
Modern British royalty also featured on the big screen, with a video tribute from Prince William and wife Catherine. The royal couple is planning to visit bushfire-ravaged communities during their next tour.
Lambert said their involvement was a "no-brainer" while Keating, whose brother-in-law is a volunteer firefighter in Queensland, flew into the country especially for the concert.
"I wanted people in Australia to know that we heard you, and that you weren't alone," Keating told the Seven Network.
"That was really important to me, that I could be here and perform or do whatever just to stand in solidarity."
Andrea Gartside decided to attend the nine-hour concert with her friend Maureen Mackie to support the firefighters after the unprecedented fire season.
"We're doing our part in helping," she told AAP at ANZ stadium.
"It's going to be awesome … it's great that it's bringing everyone together for a good cause."
Queen fan Cheryl Hind was excited to see the band perform again.
"It's part of why I'm here today and to thank the firies for everything they've done," she told AAP.
"It's just amazing."
Lisa Yasso travelled from central Queensland to see the legendary rock band perform again.
"It's an awesome cause," she said.
Popular Australian acts spanning generations were also on the line-up, including 5 Seconds of Summer, Amy Shark, Daryl Braithwaite, Delta Goodrem, Grinspoon, John Farnham, Lee Kernaghan, Olivia Newton-John.
Fire Fight's profits will be shared between the Red Cross' disaster relief and recovery fund, rural and regional fire services and the RSPCA's bushfire appeal.
Donations to the Foundation for Rural and Regional Renewal will also be accepted during the concert, to fund grants for community-led projects needing support in the bushfires' aftermath.