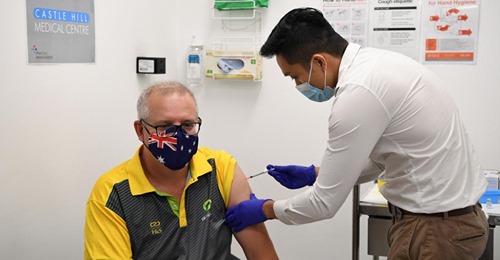 Nearly 160,000 people have now had a COVID-19 vaccination, including the Prime Minister who received his second Pfizer dose on Sunday.
However, the figure is well below what the federal government had hoped to achieve, with a target of inoculating 4 million people initially set for early April.
Scott Morrison has blamed international supply issues but is hopeful vaccination rates will ramp up in the coming weeks.
"The critical factor in controlling the pace of the vaccination program is the supply and production of vaccines — that is the critical swing factor," he said
"In these early phases, that has obviously been impacted by the fact that we had anticipated to have some 3.8 million vaccines imported from overseas. That's been 700,000.
Italy recently blocked a shipment of AstraZeneca coronavirus vaccines destined for Australia and Mr Morrison said it had been a "herculean effort" to get vaccines here, given ongoing international issues.
Biotech company CSL has been tasked with manufacturing more than 50 million doses of the AstraZeneca vaccine in Australia to ensure the rollout is less reliant on imports.
Health Department secretary Brendan Murphy said discussions were underway with CSL to determine if it could "churn out" more than 1 million doses a week as currently planned.
"We have lots of people who want to give more vaccines … the critical limitation at the moment is simply vaccine supply," he said.
Professor Murphy also said the Health Department expected the Novavax vaccine to be made available later this year, but the department was "not counting on that in our vaccination strategy".