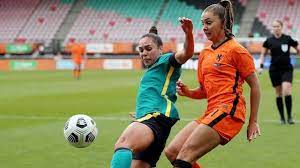 Just over three months out from the Olympics. Back-to-back thumpings for the Matildas.
It's a worrying situation for one of the nation's glamour teams ahead of Tokyo amid concerns that another big tournament may slip by for this hugely talented group of Australian footballers without any silverware to show for it.
There may be a home World Cup on the horizon in 2023 but if Tokyo comes and goes without a podium finish, it's likely to be all in on that for Sam Kerr, Caitlin Foord, Hayley Raso and co in the hope of capitalising on this golden generation.
Right now, that seems the most likely scenario after The Netherlands tormented the Matildas just as much as the Germans had a few days before.
They may just be friendlies and it may just be the infancy of new coach Tony Gustavsson's Matildas reign but — defensively at least — Australia looks a mile away from its seventh-placed world ranking and there is a mountain of work for the Swede to do to get this group to match its lofty Olympic expectations.
Former Matilda Amy Chapman, who played 20 matches for the national team, said it was arguably the worst situation the team has been in recently.