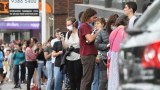 The unemployment rate has fallen to 4.9 per cent, with almost 30,000 jobs created in June according to the official Bureau of Statistics data.
The unemployment rate has now declined for eight months in a row, taking it to its lowest level in a decade.
However, while the unemployment rate dropped from 5.1 to 4.9 per cent in June, the underemployment rate jumped half a percentage point to 7.9 per cent.
That jump in underemployment derived from a 1.8 per cent decline in hours worked last month, which means 33 million fewer hours were worked across the economy.
That was mainly due to the impact of Victoria's most recent snap lockdown, which occurred during the survey period.