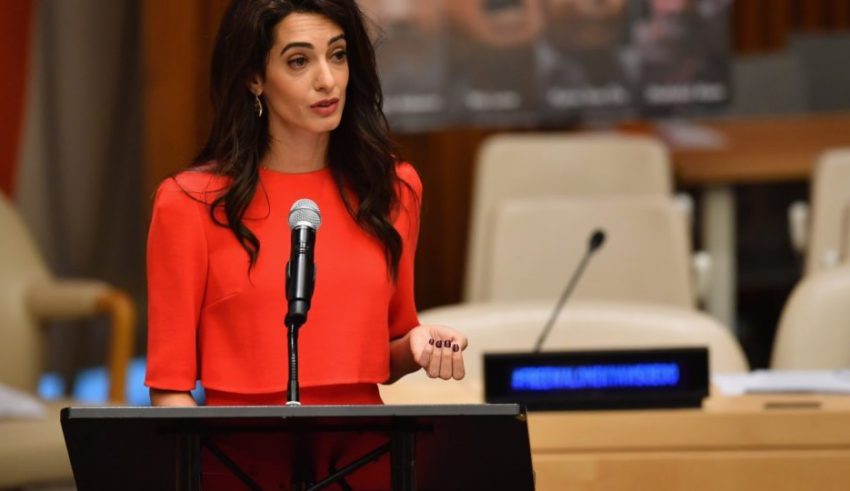 Human Rights lawyer Amal Clooney has thrown her weight behind the crusade to free two journalists imprisoned after uncovering a bloody military massacre of minority Rohingya, with the victims said to include mere children.
Ms Clooney, wife of Hollywood idol George Clooney, has urged Myanmar leader Aung San Suu Kyi to immediately pardon the reporters and reverse what she termed "a miscarriage of justice".
The Reuters duo were sentenced to hard labor after uncovering the slaughter of 10 Rohingya men and boys – part of what human rights leaders have condemned as part of a systematic campaign of genocide.
Speaking at a press freedom event at the United Nations on Friday, Clooney sought to link the former iconic status of Suu Kyi as a human rights champion and Nobel peace laureate to the request for the release of Kyaw Soe Oo, 28, and Wa Lone, 32.
Clooney said the reporters were arrested in an attempt by Myanmar to keep Reuters from publishing a story.
She noted Suu Kyi had once "allowed young people to hope for a free Myanmar that respected the rule of law".
"She knows that mass murder is not a state secret and that exposing it doesn't turn a journalist into a spy," Ms Clooney said of Suu Kyi.
"She has said that one political prisoner is one too many and so we're hopeful that since these are the principles that she herself has espoused, she will step in and try to correct an injustice in this case."
About 700,000 Rohingya Muslims have fled to Bangladesh amid a brutal military campaign in Buddhist-majority Myanmar.
Myanmar's army is accused of mass rape, killings and setting fire to thousands of homes in the aftermath of an August 2017 attack by militants on security outposts.
Suu Kyi has rejected criticism over the show-trial conviction earlier this month.
"The case has been held in open court," Suu Kyi said.
"If anyone feels there has been a miscarriage of justice, I would like them to point it out."