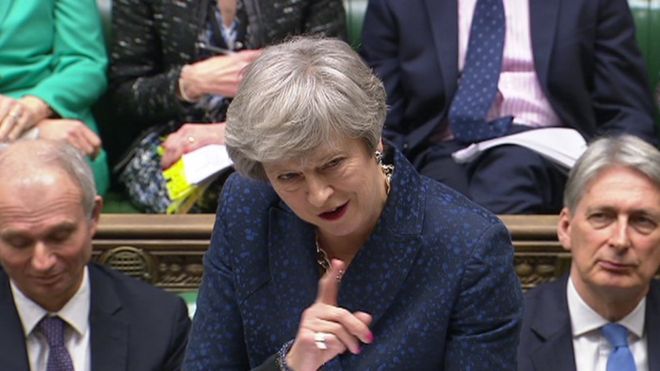 Theresa May has told MPs attempting to delay Brexit that it would not "solve the situation".
"The decision remains the same – the deal, no-deal or no Brexit," she said at Prime Minister's Questions.
Labour leader Jeremy Corbyn accused her of having a "closed mind" to other Brexit options, such as Labour's plan for a customs union with the EU.
But the PM attacked him for refusing to meet her and said he did not "have a clue" what his own policy meant.
Meanwhile, leading Tory Brexiteer Jacob Rees-Mogg said "any deal would be better than not leaving at all".
But he repeated his opposition to Mrs May's plan, especially the so-called "backstop" – the last resort to stop a hard border being created between Northern Ireland and Ireland after Brexit.
MPs are proposing alternative plans to the PM's deal with the EU, including seeking an extension to the UK's exit date – which is currently scheduled to happen at 23:00 GMT on 29 March.
But the prime minister has said the "right way" to rule out no-deal Brexit is to approve her withdrawal agreement.
Under current law, the UK will exit the EU on 29 March, whether or not a deal has been struck. The decision to leave was taken by 52% to 48% in a referendum in June 2016.