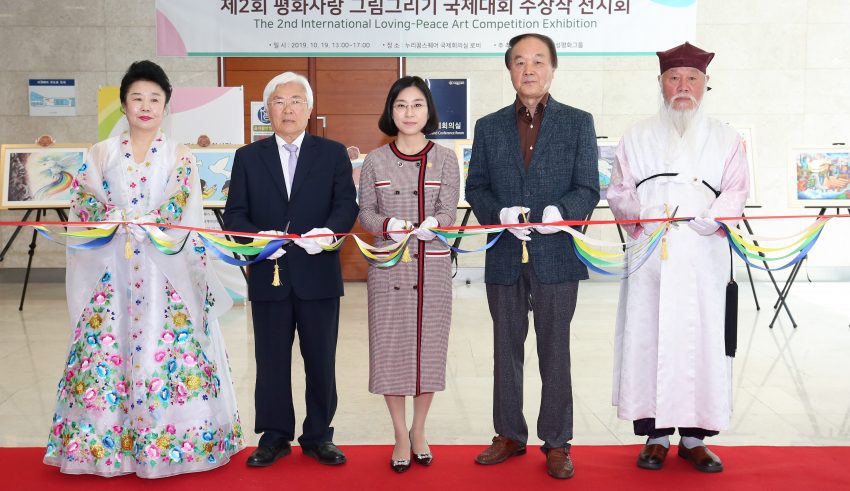 Winners selected and announced for the final IWPG art competition among 6,500 participants from 30 countries
Seoul, October 30, 2019 – The International Women's Peace Group (IWPG) announced the winners of the 2nd International Loving-Peace Drawing Competition. This is an international competition is one of the policies for realizing world peace that is designed to foster children and youth, the leaders of the future, as leaders in the culture of peace.
The competition was held in 41 cities throughout 30 countries. It was participated by over 6,500 students from around the world on the theme of "Cessation of Global War, Handwritten Letters of Peace, Love Nation, Love Peace, Eradication of Weapons". Three pieces from each country that passed the preliminaries sent for the finals.
Ha Eun Yoon (Buil Design High School in Korea, 19 years old) received the Grand Prize for her drawing of the dove that symbolizes peace covering the world of war and death with light and a rainbow. She received high artistic evaluation for her work in regards to the theme, composition, and color. Yoon said, "I wanted to deliver peace and hope to those suffering from global war and conflicts" while describing her drawing.
At this award ceremony, 3 were awarded 2nd place: Enkhtur Anu-Ujin from Mongolia (Elementary School), Milana Martirosyan from Armenia (Elementary School), and Myat Noe Cherry from Myanmar (High School). There were 6 recipients of 3rd place: Jennifer Sharon from Indonesia (Elementary School), Naw Hsa Seh Hpo from Myanmar (Elementary), Fatima Yousaf from Pakistan (Middle School), Kennard D. Putra from Indonesia (Middle School), Punnavit Mool-phon from Thailand (High School), and Enkhjargal Altaibaatar from Mongolia (High School). Chiara Isabelle Lisapaly from Indonesia along with 35 other received the Award of Recognition.
In addition, the Grand Prize was awarded 1 million won as a scholarship, the 2nd place was given 200,000 won each for a total of 600,000 won, and the 3rd place was given 100,000 won each for a total of 600,000 won. In total, 2.2 million won was handed out as scholarships.
Winners from each country participated in the exhibition and awards ceremony of the "International Loving-Peace Art Competition" held in the International Conference Room at Nurim Dream Square in Sangam-dong, Seoul, South Korea on the afternoon of 19th.
IWPG Chairwoman Hyun Sook Yoon said, "This event is a very meaningful event where children and young people from South Korea, as well as from all over the world, are building a world peace culture. If there is one thing that I am unfortunate about, it is that the children in North Korea were unable to participate. But I am confident that the competition will be a catalyst and the children and youth in the North can participate one day. IWPG will surely make the world of peace a reality.
Judge Yang Hyung Lee said, "There is no barrier to culture and art, and no boundary between countries. I look forward to the development of the "International Loving-Peace Art Competition" into cultural arts that can ring the bell of peace all over the world. "
Mr. Soon Kyu Hwang, the Vice Director of the Korean Fine Arts Association, said, "Through the education of a culture of peace, the people of the world will be awaken. Under the slogan, 'We are One', where people of the world become one between religion and nation, I am sure that the answer to peace will come to fruition.
The judges for the finals were Mr. Yang Hyung Lee, Executive Advisor of the Korean Fine Art Association; Mr. Soon Kyu Hwang, Vice Director of the Korean Fine Art Association; and Mr. Frederic Couton, architect in France.
IWPG is an international women's NGO registered with the United Nations Global Communication Bureau (DGC) and the UN Economic Committee for Economic and Social Affairs (UNECOSOC). Currently, active peace works are being carried out through women's peace networks around the world, women's peace education, 'LP" project, and initiatives to spread a culture of peace.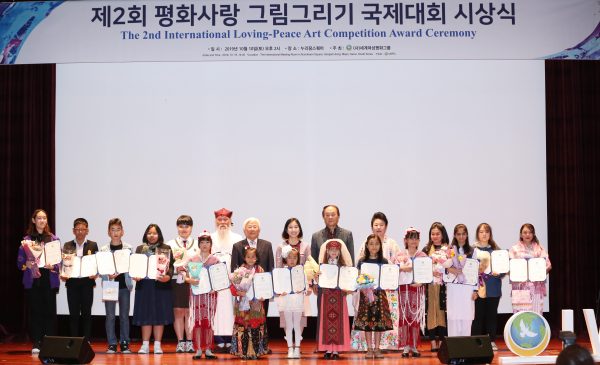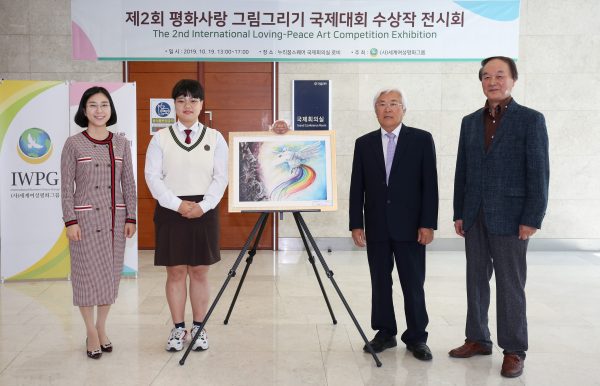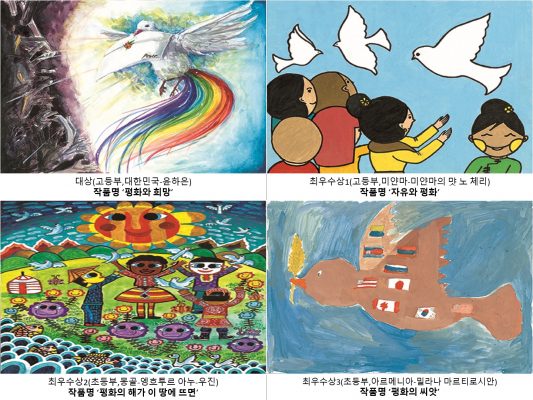 About IWPG
IWPG is a peace NGO registered with the UN DGC (Department of Global Communications), UN ECOSOC (Economic and Social Council), and the Ministry of Gender Equality and Family in the Republic of Korea. Established in September 2013 the IWPG currently has 100 branches in 130 nations, approximately 240 cooperative organizations (MoA), and around 760,000 members.
Inspired by the heart of a mother towards protecting her children and the world, IWPG's vision is to leave a legacy of world of peace rather than war and conflict for all the future generations by uniting the 3.7 billion women across the world. This unity of women can be believed to be the greatest force to bring about a change and a world of peace. For more information about IWPG and the work of peace, visit: www.iwpg.kr/en