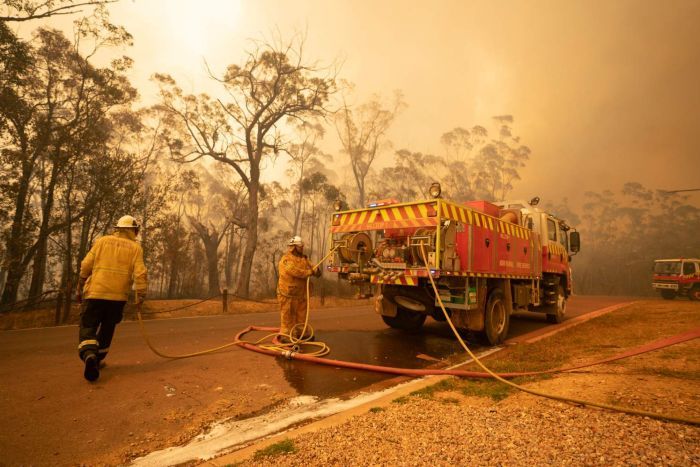 A volunteer firefighter has died and two others have been injured while working on a fire burning near Albury, the NSW Rural Fire Service (RFS) has confirmed.
The RFS said the three firefighters were the same truck working on a blaze near Jingellic, near the Victorian border, when it rolled over after being hit by extreme winds.
One firefighter was killed and two others suffered burns and were taken to hospital.
A second vehicle working on the same fire was also blown over and the firefighter on board was taken to hospital, the RFS said in a statement.
"The service's thoughts are with all the firefighters' families, friends and fellow brigade members," the statement said.
It followed another day of bushfire danger, with strong winds and soaring temperatures fanning flames towards major population centres.
Two fires are burning at emergency level, including the Green Valley, Talmalmo fire in the Greater Hume area, and the Werri Berri fire in the Bega Valley.
The NSW Rural Fire Service (RFS) tweeted that a fire-generated thunderstorm had formed over the Badja Forrest Road and Turross Falls Road fires, which were burning north-east of Cooma at watch and act and advice levels, respectively.