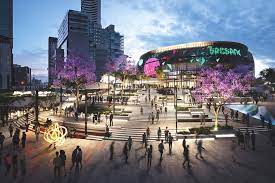 If the Queensland capital gets the backing of the International Olympic Committee (IOC), it'll be the third time an Australian city has hosted an Olympic Games after Melbourne in 1956 and, of course, Sydney in 2000.
Queensland Premier Annastacia Palaszczuk is in Tokyo for the final pitch, which will be delivered in front of the IOC later today.
Here's everything you need to know about the announcement.
Who else is bidding for the 2032 Olympics?
After years of discussions and negotiations, in February the IOC named Brisbane as its preferred bidder.
Cities in India, Indonesia, Qatar, Spain and a region of Germany signalled their interest but their bids did not advance to the IOC board approval stage.
For this reason, Brisbane is expected to be awarded hosting rights unopposed.
When will we find out?
Members of the IOC will listen to a 45-minute pitch from Australian officials, including Prime Minister Scott Morrison via video link, and from Ms Palaszczuk, in person.
After the pitch, delegates will vote between 6:10pm and 6:30pm AEST before the announcement is expected to be delivered at 6:30pm.
This is when you can tune in to hear if Brisbane has secured the 2032 Games.