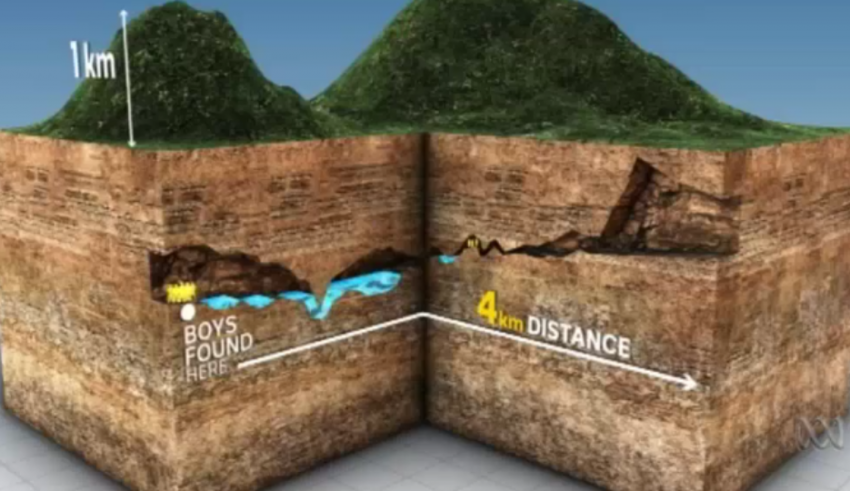 The attempt to rescue 12 trapped boys and their soccer coach from the Thailand cave site has officially begun.
Thai authorities confirmed the daring rescue attempt has started after ambulances earlier arrived at the site and the area around the Tham Luang cave complex was evacuated.
"Those unrelated to the rescue operation, please evacuate the area immediately," Mae Sai police commander Komsan Sa-ardluan said.
The rescue began as dark monsoon rainclouds loomed over the mountainous north of the country.
Thirteen fully staffed medical teams have been stationed outside the cave for each of 12 boys and their coach trapped inside.
Each of the thirteen teams has its own helicopter and ambulance, as well at least one doctor, two nurses and a paramedic.
Medical staff involved in the mission say their first assessments will focus on the boy's breathing, signs of hypothermia and an airborne lung infection known as cave disease which is caused by bat and bird droppings and can be fatal if it is untr After the initial assessment, the group will be driven by ambulances to makeshift helipads and airlifted to the Chang Rai hospital some 70km away, Major General Pramote Imwattana of the Army Medical Department said.
eated and spreads to other parts of the body.
"It takes 10 minutes to get from our field medical tent to the helipad and about 15 minute in the air to the hospital," he said.
'Don't forget my birthday'
Letters written by the Thai soccer team while trapped in a cave have been released, with the children sending love to their relatives and their coach apologising to parents.
A heavy rain shower hit northern Thailand overnight, worsening conditions at the cave where rescuers were waging a "war with water and time".
"[It's] looking like there will be very heavy rain by about midday local time and then continuing for most of the afternoon and potentially into tomorrow," ABC correspondent Anne Barker told ABC News.
"Once the heavy rains were going to hit, it was always going to be the deciding factor.
"They know once the monsoonal rains start to flow back into the cave, water levels will rise no matter how hard they pump all that water out, which they've been doing continuously for two weeks now.
"So they must take advantage of the water levels being as low as possible, as they have been in the last couple of days."
With oxygen levels dropping and rain forecast, little time was available to teach the boys — some as young as 11 and not strong swimmers — to make a dive through narrow, waterlogged passageways that would challenge experienced cavers.