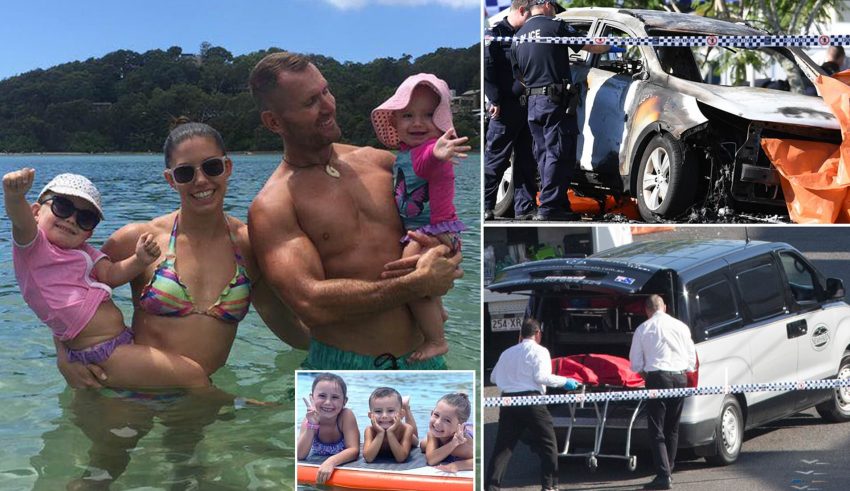 The deaths of a Brisbane mother and her three children have prompted an outpouring of anger, sadness and disbelief among family members, politicians, domestic violence advocates and the Australian community.
Hannah Clarke, 31, also known as Hannah Baxter, and her children Aaliyah, 6, Laianah, 4, and Trey, 3, died after the family car was set alight on a street in the Brisbane suburb of Camp Hill on Wednesday morning.Ms Clarke's estranged husband and the children's father, Rowan Baxter, allegedly doused his family with petrol.
The 42-year-old former Warriors NRL player was found dead on a footpath with self-inflicted wounds.
Detective Inspector Mark Thompson said Queensland police had "engaged with both Hannah and her estranged husband Rowan around domestic violence issues … and referred them both to support services".
"The dynamics of a family that are broken and estranged are particularly poignant to this investigation and very hard to decipher," Detective Inspector Thompson said.
Prime Minister Scott Morrison described the incident as "devastating" and encouraged victims of domestic violence to seek support.
"Hannah and her three children so senselessly and maddeningly murdered in what has occurred in a terrible act of violence and it just grieves our hearts terribly today," Mr Morrison said.
"Today Australians just look at each other and give thanks for each other. And this terrible, awful event, our hearts are just full of grief."
Queensland Premier Annastacia Palaszczuk offered condolences to Hannah Clarke's family and friends, saying it was difficult to comprehend what had happened.
"Our city, our state, our nation has been left shaken, appalled and desperately saddened at unimaginable tragedy that unfolded in the suburbs of Brisbane yesterday," Ms Palaszczuk said.
"This unthinkable act of violence took the lives of three beautiful, innocent children as her mother left to take her kids to school."
Korri Lauder, who has known Ms Clarke for more than a decade, said her friend, who was a champion trampolinist, was "the definition of love".
"It's not just her family that's crushed it's the entire trampolining community and Gymnastics Australia," Ms Lauder said.
"It doesn't feel real, it doesn't feel like it's her.
"She lived, breathed [her kids]. She'd do anything for those kids.
"When you think of family, you just think of her."