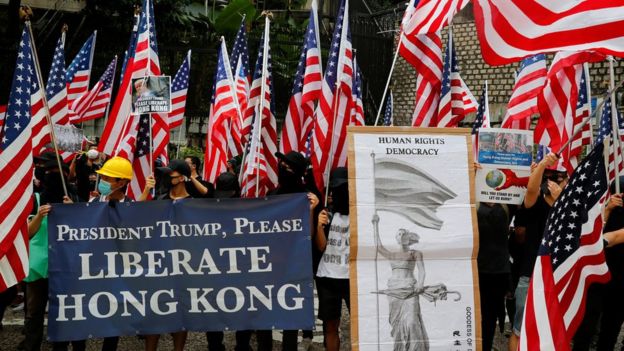 Pro-democracy protesters in Hong Kong are appealing to President Donald Trump for help as they march near the US consulate general in the city.
Some are carrying banners reading, "President Trump, please save Hong Kong" and "Make Hong Kong great again".
The protests, now in their 14th straight week, have continued despite Hong Kong's leadership finally meeting one of the protesters' key demands.
China has consistently warned other countries not to interfere.
It says the situation in Hong Kong, a former British colony handed back to China in 1997, is purely its own internal affair.
Sunday's crowd waved US flags and chanted pleas for the US to "liberate" Hong Kong from China.
They are asking the US to pass a proposed "Hong Kong Human Rights and Democracy Act", which Democratic Senators are pushing for consideration next week.
The law would require the US to certify Hong Kong's high degree of autonomy on an annual basis to justify its special trade status.
It could also expose Chinese officials to US sanctions if they were found responsible for suppressing Hong Kong's freedoms.
Protesters sang the US national anthem, The Star-Spangled Banner, and a new rallying cry of "five demands, not one less" – after one of their long-standing conditions for ending demonstrations was met earlier this week.
What do protesters want?
The protests first erupted over a controversial extradition law which would have allowed Hong Kongers to be extradited to mainland China – where a different legal system applies.
Mass protests involving hundreds of thousands of people demanded that the plan be abandoned. It was initially suspended in June, and then finally dropped earlier this week.