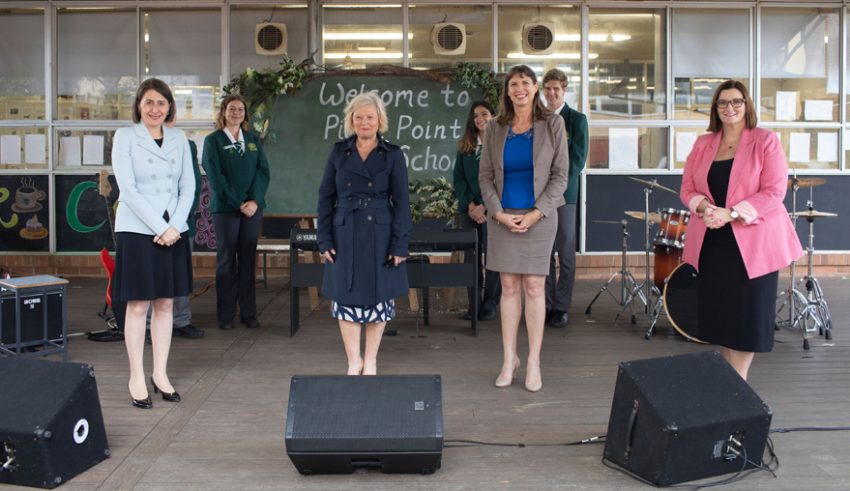 Wendy Lindsay MP
Member for East Hills
MEDIA RELEASE
The NSW Government is continuing its record investment in new and upgraded schools with Picnic Point High School set to receive a significant upgrade as part of the Government's COVID-19 Recovery Plan.
Premier Gladys Berejiklian and Minister for Education Sarah Mitchell joined State Member for East Hills Wendy Lindsay at Picnic Point High School today to make the announcement.
Ms Berejiklian said the NSW Government is committed to delivering high-quality school infrastructure across the state.
"More than 1,000 students at Picnic Point High School will benefit from the school upgrade," Ms Berejiklian said.
"I want to ensure every child in NSW has the opportunity to be best they can be, no matter where they live or what their circumstances may be."
Ms Mitchell said the NSW Government is investing $6.7 billion over four years to deliver more than 190 new and upgraded schools to support communities across NSW.
"We are committed to ensuring that growing local communities have access to modern facilities and that students can benefit from the latest in school design, contemporary learning spaces and educational technologies," Ms Mitchell said.
Former Picnic Point High School vice-captain and local State Member for East Hills Wendy Lindsay said the upgrade was a great win for the community and that she looked forward to seeing plans and designs progressing.
"Schools are the backbone of our communities and I am very pleased that this Government is investing record amounts in our schools and teachers for the benefit of our children and their future," Mrs Lindsay said.
The Department of Education will start construction procurement for the project as soon as possible, with a view to have a contractor on board for early next year.