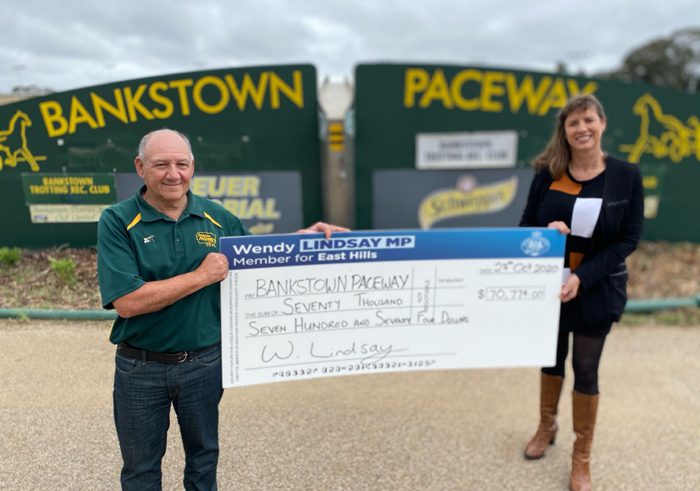 Wendy Lindsay MP
Member for East Hills
Bankstown Paceway is set for an upgrade after being allocated more than $70,000 under the NSW Government's COVID-19 stimulus program.
Local State Member for East Hills Wendy Lindsay said it was fantastic to see the program go towards improvement works at the paceway while supporting jobs and the economy.
"This funding will improve the Paceway's entry road and service lanes and install removable bollards to assist with access and traffic control, ultimately making it better equipped to host events," Mrs Lindsay said.
"Bankstown Paceway is a multi-use facility which is used for other functions, events and markets, so this investment means it can continue to serve the community for generations to come.
"The NSW Government values the central role of showgrounds and we want to ensure they're supported and modernised."
Bankstown Paceway, Vice President, Rob Cutrie said on behalf of the Bankstown Paceway I would like to thank our local State Member Wendy Lindsay MP for her support along with the NSW Government for their help in acquiring this COVID-19 Stimulus Grant.
"The Bankstown Paceway is an integral part of the area and has a wide number of usages for support services within the area. COVID-19 has had a significant impact on our operations and this grant has been vital to get us through", Mr Cutrie said.
As many showgrounds served as emergency centres for residents and their animals, firefighters and other support services during recent bushfires and floods, the NSW Government wants to ensure they are well maintained.
Minister for Planning and Public Spaces Rob Stokes said the COVID-19 stimulus program has now allocated more than $35 million to showground improvement projects across the state.
"The COVID-19 pandemic has highlighted the need for better public spaces across our state. This program not only provides a short-term economic stimulus, but also leaves a lasting legacy across 228 of the state's showgrounds," Mr Stokes said. 2
"This program has supported more than 1,330 jobs on showground projects across the state providing work for tradespeople, suppliers and fabricators."