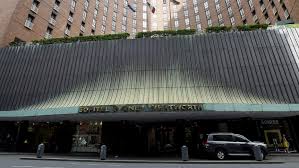 Health authorities are racing to identify the source of infection of a security guard who has tested positive for coronavirus.
The positive case breaks NSW's 55-day streak of no locally acquired coronavirus cases.
The 47-year-old works mostly weekends at the Sofitel Wentworth in Sydney's CBD and the Mantra Sydney Central hotel in Haymarket.
Under the state's routine surveillance of quarantine staff, workers are tested after each shift.
The man tested positive late last night after testing as part of that scheme, and a second test confirmed the result early this morning.
The man had previously tested negative following his most recent shifts on March 5 and 6 and had reported having no symptoms.
Look back on all the coronavirus news from Sunday in our blog.
NSW Chief Health Officer Kerry Chant said the "working hypothesis" was that he had been infected by a positive case in quarantine at the Sofitel between 7:00pm on March 6 and 7:00am on March 7.
"What we have done as a precaution is reached out again to the workers that were at that hotel at that time because, if this person was exposed, we are obviously thinking could anyone else have been exposed," Dr Chant said.
Urgent genomic sequencing is underway in an attempt to find links between the worker and a positive overseas case, with results expected late tonight or early tomorrow.
About 130 people who worked with the guard between 7:00pm on Friday March 12 to 7:00am on Saturday March 13 are self-isolating and getting tested.
"That allows us time to work through and ascertain the nature of interaction that this security guard would have had to those quarantine workers," Dr Chant said.